HCMC authorities have ratified a 10-50% raise in land rates on which compensation and taxes are to be based. Accordingly, land prices in downtown Dong Khoi, Nguyen Hue and Le Loi streets will climb to VND67.5 million per sq.m from VND43 million.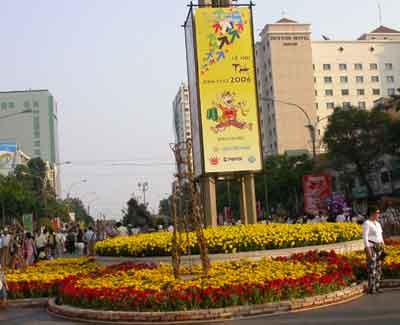 Nguyen Hue Street in preparation for Tet, the Lunar New Year in 2006.
According to Decision 144/QD-UB signed by Ho Chi Minh City Vice Mayor Nguyen Huu Tin on December 27 - effective as of January 1, 2008, land in district 1 will fetch up to VND67.5 million per sq.m (US$4,218), up 50%.
Also, land prices in districts 3, 5, and 10, will surge by 30%; for districts 2, 4, 6, 7, 8, 9, 11, 12, Tan Binh, Binh Thanh, Phu Nhuan, Go Vap, Tan Phu, Binh Tan, and Thu Duc, the rates will be 20% higher.
Suburban districts of Hoc Mon, Cu Chi, Binh Chanh, Nha Be, and Can Gio will enjoy the least price increase - just 10%.
The highest price for land earmarked for non-farming, manufacturing purposes is VND47.8 million per sq.m while the highest rate for farmland in the city is VND158,000.
Meanwhile, the Ha Noi municipal government on December 28 ratified a similar land list which generally raises prices by 20%. Thus, land in central capital will rise from VND54 million to VND67.5 million.
The Vietnamese government routinely revises land rates in urban areas as a basis on which land taxes and compensation for land acquisition for public projects are calculated.