The hotel business are set to be booming this year as many new hotels will make debut, while existing ones build more rooms to meet up the surging demand.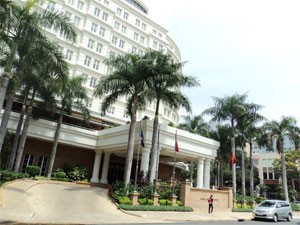 View of Park Hyatt Hotel in Ho Chi Minh City's District 1 (Photo:Minh Tri)
Statistics from the real estate consultancy Savillis show there are 13 five-star hotels with 4,100 rooms, nine four-star hotels with 1,400 rooms and 38 three-star hotels with more than 3,300 rooms in Ho Chi Minh City.
The number of rooms of the four- and five-star hotels is expected to increase by 10,000 in 2020, according to the UK-based property consultancy.
Deputy director Rudolf Hever of another property consultancy CB Richard Ellis Vietnam said nearly 84 percent of hotels in the near future would be located in District 1, the area of shopping and tourist centers.
The amount of hotels at adjacent districts including Tan Binh and Phu Nhuan would increase on the infrastructure development, he said.
"For a country with a steady economic growth rate and high GDP, the number of 13 five-star hotels is not much and will not meet up the demand in the upcoming time," said Dang Huy Hai, deputy general director of New World Hotel.
"According to our experience, the number of hotel rooms could not often meet up the increasing demand from international conferences taking place in the city in previous years."
Robert McIntosh, CBRE Hotels' managing director in Asia Pacific, said the increasing amount of foreign tourists this year was a good news for hotel businesses in Vietnam.
However, before jumping into hotel business, investors need to set up detailed strategies, which are a combination of decoration, customer services and pricing, he warned.
Efforts to meet up with the surging demand have seen many hotel owners make debut of new rooms and the construction of new hotels was speeded up.
Vietnam's leading tourism company Saigontourist has started to build five-star hotel Pullman Saigon Centre with 300 rooms and the total investment of around US$60 million. The 24-storey hotel will debut by 2013.
Meanwhile, construction of the foundation of Saigontourist's four-star hotel Novotel Saigon Centre has finished.
Construction of other five-star hotels including Le Meridien Saigon, Grand Extension, Novotel and Times Square are being speeded up. Last year, three-star Liberty Central Hotel was put into operational, while three-star Oscar Saigon was upgraded to the next level.
Tang Gia Bao, chairman of Valley Mountain hotel, said it required an area of 2,500-5,000 square meters to build a 70-room hotel with the standard of three stars or higher. Other hotel owners disclosed the hotel business' rate of return was around one or two years only.
Furniture and customer service competition
To capture big market shares, hotel owners should impress their customers with their own edges over other competitors, such as warm and cozy beds and nice spa services, said Bjorn Hanson, service consultant of the market research consultancy PricewaterhouseCoopers.
Statistics show rental of a five-star hotel room in HCMC was an average of US$125 per night. Following are four- and three-star hotels, with rental of $83 and $46 respectively.
Hotels also offer rooms with various classes. For example, Rex hotel offers Rex Suites with balcony looking down a square and shopping centers in downtown to families. It costs $141 per night for one room.
Exclusive Suites with rental of $355 per night offers a spacious room, with real wood floor and modern furniture.
Movenpick Saigon hotel offers 251 rooms, of which 121 are no-smoking and rooms for handicaps. Sheraton Saigon hotel attracts customers with Signature restaurant offering views of downtown.