The Government has postponed the implementation of a decree on streamlining the overdeveloped and out-of-control tra fish (pangasius) industry until the end of this year in stead of early this year as per schedule because several businesses have lamented that some regulations in the decree might force them to close down if being applied now as per schedule.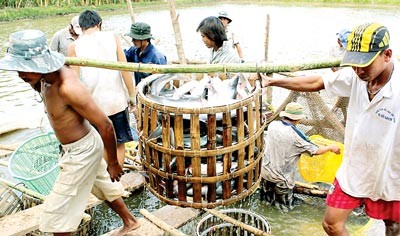 Tra fish harvest in the Mekong Delta (Photo: SGGP)
According to Decree 36, ice coverage and moisture ratios to tra fish products must not exceed 10 percent and 83 percent respectively, compared to the products' net quantity. These regulations aim to improve Vietnam's tra fish quality in international market. Ice coverage is an ice layer covers around tra fish products.
 
Chairman of Southern Fishery Industries Company Ltd Tran Van Quang from Can Tho City said that the company's tra fish products have the moisture of 86 percent as per customers' requirements. If it is lowered to 83 percent, the product's cost price will increase over 30 percent.
 
An Giang Seafood Farming and Processing Association said that most businesses agreed with the implementation of the decree. However, if the ice and moisture ratio regulations are immediately applied, export price will go up by US$1 to reach US$3.4-3.6 a kilogram, which most importers do not accept.
 
They have explained that these regulations are to improve the products' quality but foreign partners have not agreed with a price increase and been willing to buy other products to replace tra fish, said Nam Viet Company Director General Doan Toi.
 
Go Dang Company leader said that Vietnam has exported tra fish to many markets in the world such as the US, and Europe, Asia and Africa nations who have their own requirements on the quality of tra fish products and consumption demand. Standard regulations should be flexible. The point is that processing must ensure food hygiene and products are accepted by importers.
 
Decree 36 is necessary to streamline the overdeveloped tra fish industry which has resulted in several consequences. For instance, supply far exceeds demand, farmers have suffered losses from low selling prices and many companies have operated ineffectively. However authorized agencies should pay appropriate attention in the market factor while carrying out the decree, said Mr. Duong Ngoc Minh, director general of Hung Vuong Company.
 
Authorized agencies in the Mekong Delta have proposed the Government to postpone the decree's implementation for a year so that businesses have time to convert their processing process and negotiate with their partners.
 
Minister of Agriculture and Rural Development Cao Duc Phat said that the Government has agreed to delay it until the end of this year.
 
However he added that the Government had carefully considered regulations before issuing them, hence businesses must comply with. They should change their old, easy and unsuitable operation manner to increase tra fish quality and Vietnam's prestige in the world market.
 
Deputy Chairman of the An Giang Seafood Farming and Processing Association Le Chi Binh said that the decree should be seriously implemented to eliminate weak businesses, build a brand name for Vietnamese tra fish and gain the initiative in export price negotiation.