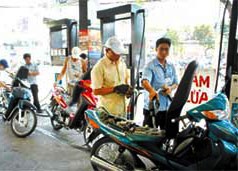 Will tax cuts result in lower petrol prices?
The Ministry of Finance has announced it decision to reduce import tariffs on petrol from the current 5% to 0% in response to recent price fluctuations in global oil futures.
Import tariffs on all kinds of leaded and unleaded petrol, diesel have been reduced altogether to 0%, the ministry added. The decision becomes effective as from April 7, 2006.
The move was aimed at reducing the financial burden on petroleum importers, the ministry said, noting that world oil prices climbed to around US$65 a barrel in the last two weeks.
The tariffs cut was the third adjustment on petrol tariffs in the three consecutive months and the fourth since March last year.