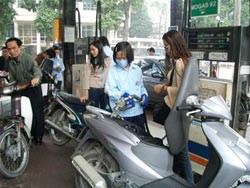 Increasing petroleum retail price last week affects consumer prices
Viet Nam is likely to keep any increase in consumer prices below the Gross Domestic Product (GDP) growth rate of 8 percent after taking into account an increase in the petroleum retail price, as long as strong price stabilising measures, said market experts.
The rise in the price of petroleum is likely to cause an increase of between 0.05-4.9 percent in the cost of manufacturing, according to Deputy Minister of Finance Tran Van Ta.
Meanwhile, sectors including coal, electricity, cement, steel and paper are predicted to undergo price rises of between 0.06-1.4 percent; cargo transportation, 1.7-4.3 percent; agriculture, 0.05-0.8 percent; and offshore fishing, 4.9 percent.
In an attempt to alleviate pressures for rises in prices and to keep inflation under control and to prevent irrational price rises, the Government, although it has been necessary to raise the price of petroleum, has called for the stabilisation of the retail prices of electricity and coal.
All ministries, localities and businesses have been asked to control prices and implement cost-effective measures, and monitor the market in order to prevent unreasonable price rises in certain products.
This month's consumer price index is predicted to increase by 0.4 percent and then annually by more than 7 percent, according to an analysis by the Deputy Head of the Price Management Department under the Finance Ministry Nguyen Tien Thoa.
Source: VNA