Prime Minister Nguyen Tan Dung has instructed ministries, departments and local authorities to curb the inflation rate by about 15 percent and achieve a six percent GDP growth this year.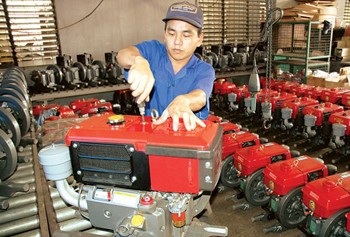 Production of export items must be encouraged, according to the PM (Photo: SGGP)
Minister Nguyen Xuan Phuc, Chief Officer of the Government Office, made this announcement at a press conference in Hanoi yesterday afternoon.
Mr. Phuc said that the Prime Minister has ordered a reduction of State budget overspending to below five percent, trade deficit to remain below16 percent, expenses to reduce by 10 percent and public investments to be at a minimum.
The Government has lowered the GDP growth rate to curtail inflation.
PM Dung asked relevant ministries and departments to implement measures proposed in a government resolution on restricting inflation for this year. They must administer a flexible monetary policy, give priority to production and pay more attention to redundant bank loans, particularly in the real estate sector. The CPI must remain below 15 percent.
Foreign currency exchange rates and gold prices must be scrutinized. The State Bank of Vietnam must administer the monetary policy to ensure that credit growth rate this year remains below 20 percent.
Prices of other commodities should also be closely supervised and adjusted. Projects for increasing production, social welfare and natural disaster prevention must receive priority.
Import of luxury items like cars and expensive cell phones should be limited to curb trade deficit. The trade deficit in the first five months of 2011 reached nearly USD 6.6 billion, accounting for 19 percent of the import turnover and higher than the target set for the year.