In 2007, Viet Nam's Gross Domestic Product (GDP) growth reached a 10-year record. But so did inflation, even surpassing GDP growth.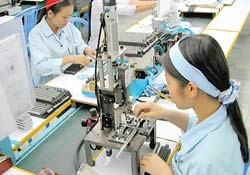 Workers of Sai Gon Electric Company
That conclusion was presented Sunday during the government's regular December meeting chaired by Prime Minister Nguyen Tan Dung. The meeting focused on the nation's socio-economic situation, administrative reforms and anti-corruption.

At the meeting, Minister of Planning and Investment Vo Hong Phuc put forward some figures showing the main targets of 2007 set by the National Assembly were reached or even surpassed.

It is expected that GDP growth would reach a 10-year record, 8.44%, and exports would amount to US$48.3 billion, with the US topping the list of biggest markets.

Official Development Assistance (ODA) capital pledged for Viet Nam also reached a record, US$5.4 billion.

Foreign Direct Investment (FDI) saw a breakthrough, too, at US$20.3 billion, up some 70% from 2006, with licensed capital reaching US$17.65 billion, a 94% annual increase.

According to Phuc, the rate of employment also surpassed its target, with some 1,682 million people finding jobs and some 82,500 guest workers being sent abroad.

The tourism sector was no slouch either, with some 4.2 million arrivals, up 16.4% from 2006. Tourism services contributed over 31% of this year's GDP, nearly equal to industry and construction.

Posts and telecommunications also saw a boom in 2007, with some 18.5 million new telephone subscribers, a 60% annual increase, bringing the number of fixed telephone lines to over 46 million.
Nonetheless, PM Dung directed government offices to work harder to find solutions to curb inflation in the year ahead.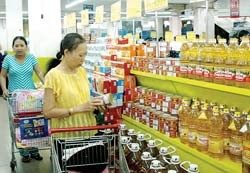 Prices of several commodities are forecast to rise next January
Phuc attributed December's CPI rise, 2.9%, to soaring prices of food, 4.69%, gasoline price hikes in November, vehicle prices and postal fees, up 4.38%. The end result, said Phuc, was this year's inflation reached a 10-year record of 12.63%.

Minister of Finance Vu Van Ninh, Minister of Industry and Trade Vu Huy Hoang and others instead blamed recent fluctuations in import prices for domestic inflation, noting the nation's trade gap doubled to US$12.4 billion.

Despite this year's GDP per capita hitting US$833, the gap between rich and poor seemed to widen.

Minister of Industry and Trade Vu Huy Hoang said that next January prices of several commodities will continue to rise with rising demand during the lunar new year (Tet) holidays which start in February.