The Ministry of Trade and Industry recently asked five business groups to submit their plans the adjust prices for essential commodities. The ministry expects to analyze the report before issuing price adjustments for the market.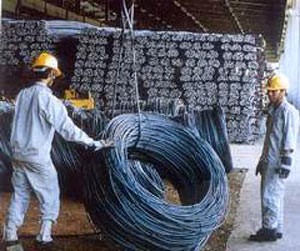 Steel is one of essential commodities whose prices will be closely monitored 
The five groups are the Viet Nam National Coal-Mineral Industries Group, National Oil and Gas Group, Steel Corporation, National Chemical Corporation and National Paper Corporation. 
 
Prime Minister Nguyen Tan Dung sent out a dispatch Sunday directing local governments to increase monitoring of consumer prices as a method of controlling them.
 
The price of electricity, coal, clean water and bus fare will continue at the present level until the end of the year, according to the dispatch. Price adjustments on other commodities must be carried out rationally and reasonably, the Prime Minister wrote.
 
A delegation from the ministry would visit domestic enterprises to ensure that price regulations are followed, said Mr. Nguyen Cam Tu, Trade and Industry Deputy Minister.
 
In other news, there will be more inspections concerning prices quoted on the market, said Mr. Do Huu Quang, vice director of Market Managment Department. Food, petrol and oil, fertilizer, iron and steel, cement, medicine, sugar, paper, salt and coal will receive priority during inspection tours, he said.