Local confectionary companies have sped up production and prepared bake and candy products for the upcoming Tet holidays as consumers have more and more preferred locally made products to foreign items because of good taste and packaging, and lower prices.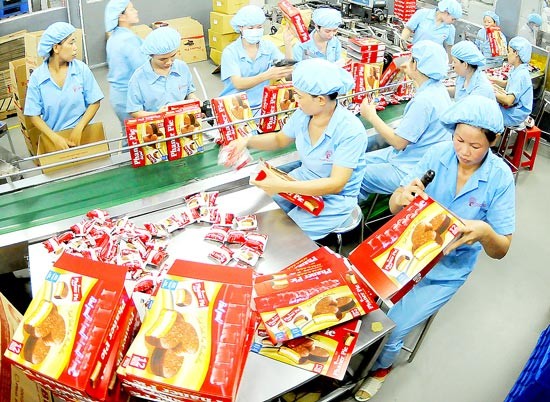 Cake production for Tet holidays at a Vietnamese business (Photo: SGGP)
The confectionery industry's sales during Tet holidays usually account for 30 percent of its yearly revenue.
The country's largest confectionary producer Kinh Do Company said they have prepared 5,000 ton bakes and sweets for the coming Tet holidays, an increase of 10 percent over the same period last year.
Another producer Bibica Corporation will launch 1,350 tons in the coming Tet, up 20 percent against the last holidays.
Company's deputy director General Phan Van Thien said prices of 30 percent of company's products would steady and process of the rest 70 percent would hike about 5 percent.
The company will boost investment in mid-end and high-end products that have been well consumed because their prices are 20-30 percent lower than that of foreign products.
In the low-end segment, Pham Nguyen Company has improved packaging and quality of traditional bake and candy products.
Companies from the northern region such as Hai Ha, Hai Chau, Bao Hien Rong Vang, Minh Ngoc and Biscafun from the central province of Quang Ngai have increased their outputs by 5-10 percent with diversified types of products.
Many companies have reported increasing purchasing power and their preparations have reached 50-60 percent of Tet plans.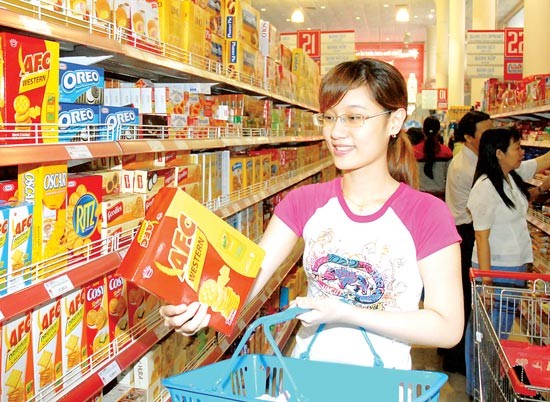 A customer chooses Vietnamese cake products at a supermarket in HCMC (Photo: SGGP)
Mr. Ho Quoc Nguyen, director of the public relation department of BigC supermarket chain, said that Vietnamese items accounted for 90 percent of the total confectionery products sold at their stalls.
Consumers have more and more liked local goods while companies have well-advertised their brands, he added.
A report on the Vietnamese confectionery market by Business Monitor International shows that the industry's revenue reached VND24,600 billion (US$1,155 million) yielding a profit of VND2,400 billion in 2013.
The revenue was estimated to hit VND27,270 in 2014, 3 percent and 1.5 percent higher than the average revenue of the industry in the Southeast Asia and the world respectively.
The Vietnamese confectionery market has a lot of potentials. Each citizen consumes about 2 kilograms a year in Vietnam and 2.8 kilograms in the world. The industry is believed to have a high and stable growth rate. They are supposed to be reasons for foreign companies to boost investment in this field.