"It's essential for Viet Nam to accelerate reforms in its economic and public administration systems," said the Asian Development Bank's (ADB) Country Director in Viet Nam Ayumi Konishi yesterday to reporters when he was attending the release of the Asian Development Outlook 2007 (ADO) report in Ha Noi.
Reporter: Why does ADB say that domestic risks to the projections include a possible backtracking in the Government's commitment to implementing reforms and controlling corruption?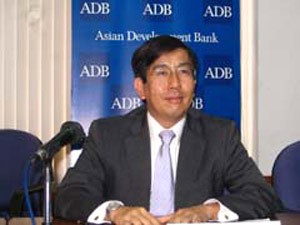 Mr. Ayumi Konishi
Mr. Ayumi Konishi:
If Viet Nam is to maintain its economic growth rate, the country has to maintain or accelerate reforms. Key among those reforms are a streamlined equitization process, simplification of public administration for greater efficiency, and transparency and accountability within infrastructure projects.  
If the Government can't maintain its current pace of reform and continue the fight against corruption, it will discourage foreign investors. That will have a negative impact on the country's investment environment and ultimately on the economy in general. 
What should Viet Nam do in terms of management to put an end to corruption?

The Government must commit itself to ending corruption in the public sector by setting up a system to monitor expenses. I've heard that they're already imposing regulations on asset statements from civil servants and their family members but they might also think about monitoring their lifestyles to determine whether or not they have unofficial income. I think as well that they could use the press more effectively to make corruption more visible to the general population. 
Public administration reforms are also very essential to ending corruption. The current system is cumbersome and ineffective and seems to exist in large part only to solve employment problems. I think it needs to focus more on results and output rather than input. 
The ADO says that power shortages affect the Vietnamese economy. Could you explain more about this?
Theoretically speaking, in order to reach a gross domestic product (GDP) growth rate of 8.5 percent, a country's power supply must increase by 17 percent. Currently, that demand cannot be met by Electricity Viet Nam (EVN) alone. Private suppliers must be allowed into the picture. Luckily, many individuals are interested in this industry but a safe investment environment needs to be created for them. 
The country should balance and diversify its power sources as well, keeping in mind natural and social environments as they do it.  
Finally, the Vietnamese Government is currently buying power exclusively from China. I think they need to look at making similar arrangements with other neighboring countries like Cambodia and Laos. 
What does the ADO say about the securities market in Viet Nam and its potential impact on the country's economy?
In the middle and long term, developing the stock market's depth and width will surely have a beneficial impact on the country's economy. The Vietnamese stock market is experiencing an initial state of rapid development. If you look at the histories of developing stock markets anywhere in the world, fluctuations and changes are normal occurrences at this stage.
Sometimes the securities market will be hot, sometimes it will need to be adjusted but in the long run, it will grow -  it has to.
 
The development of the market will be boosted by foreign investment capital and local money. However, how much do Vietnamese investors really understand about the stock market. How many of them read the financial reports of listed companies to learn about their development situation and how many of those same listed companies are really honest about their financial situation? How many management agencies actually have the ability to monitor the market?
 
At this point, we are worried about a general lack of understanding on the part of investors, the accuracy of published information, and the capacity of state agencies to manage the stock market.
Asian Development Outlook 2007
 
Economic prospects
 
- Viet Nam's economy is predicted to grow by 8.3 percent in 2007 and 8.5 percent in 2008.
 
- Growth will be underpinned by strong private consumption, private investment, and foreign direct investment. Total investment as a share of GDP is projected to be about 40 percent in the next two years. Industry (projected to expand by 10.5 percent) and services (8.5 percent) will continue to drive overall growth.
 
- Commitments given to liberalize the financial sector should speed up bank restructuring. Anticipated reforms to state banks, partnerships between foreign and domestic banks, and the boost to equity capital for joint-stock commercial banks likely will mean a strengthened banking system, a broader range of products for customers, and better access to finance, particularly for small and medium enterprises.
 
- Fiscal policy will remain expansionary, with additional outlays on public sector wages and on infrastructure. The impact on revenues of tariff cuts in compliance with the World Trade Organization commitments will be slight: average tariffs come down just 4 percent points to 13.4 percent, and this happens over 5-7 years. The fiscal deficit is projected to remain around 5 percent.
 
Development challenges:
 
- Viet Nam has to improve the efficiency of investment.
 
- Related to the productivity issue is the shortage of skilled workers. This has been cited in surveys as the third most important constraint faced by manufacturers, after access to finance and to land. The education system is not up to the task at this time, with generally out-of-date curricula, a lecture-centered method of teaching, and research activities separated from teaching.
 
- Another challenge is to maintain controlled development of the stock market in the face of the boom in share prices. A sudden reversal and capital outflows could jolt the economy.
Source: ADB