After three years (2003-2005) of implementing Resolution 21, promulgated by the Politburo, the Mekong Delta achieved important and comprehensive results in socio-economy . Its average economic growth rate reached 11.32%, reported the Steering Committee for Southwestern region.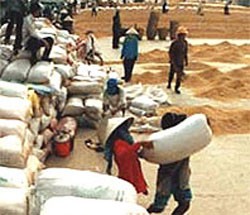 The Mekong Delta is a main granary of Viet Nam
The region's industry and construction sectors increased 16.25%, service and commerce 14.43%, agriculture, forestry and fishery 7.54%.

The economic mechanism has also changed positively, enlarging the sectors of industry, construction, service and trade, and gradually narrowing the agricultural sector.

Besides, the Delta region's output amounted to VND52,819 billion in the first half of this year, an increase of about 10% year-on-year.

The Mekong Delta currently has 17 industrial zones licensed by the PM and 13 of them are in operation with 225 projects, of which 75 are foreign invested projects with the total capital of thousands of billion VN dong.

However, the region's investment attraction is still slow due to poor infrastructure and techniques.