The Minister of Industry and Trade has urged the Government to abolish licenses for exporting rice as well as its minimum export price of $600.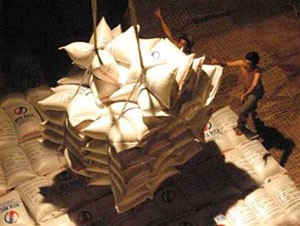 Rice is exported at Sai Gon port.. (Photo: Tuoitre newspaper)
Speaking about measures required to sustain the rice market, Minister Vu Huy Hoang also said farmers and exporters should get help in accessing cheaper credit.
As a result of these measures, the ministry expects 650,000 tons to be exported in the next two months.
But the global supply position is comfortable and a financial crisis is raging, sending agricultural prices tumbling.
Besides, in the last crop many farmers grew the IR 50404 variety of rice, which has high productivity and resistance to pests. But its quality is low and it spoils quickly.
Since the market for this rice is small, the ministry said companies should buy IR 50404 for making cattle feed and substitute imports.