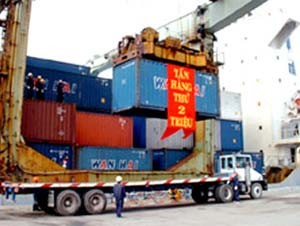 Containers are being uploaded to ships at Da Nang Port.
Da Nang Port on Monday announced the opening of more shipping routes to foreign ports that will shorten the transportation time and hopefully boost exports from the central region.
From Sunday, October 22, Taiwanese shipping line Wanhai sails from Da Nang to Taiwan, Hong Kong, China and Japan while Denmark's MCC goes directly to Singapore.
With the new routes, more manufacturers in the central region can send their containers by sea straight from Da Nang instead of having to transfer them overland to Sai Gon Port first.
With six companies shipping containers abroad from Da Nang, the city's port is the third largest in Viet Nam, close behind Hai Phong and Sai Gon.