HA NOI (VNS) — National Assembly (NA) deputies yesterday agreed in principle with socio-economic development solutions proposed by the Government - maintaining macroeconomic stability, accelerating economic restructuring and revamping the current growth model.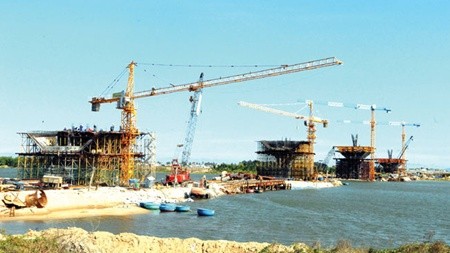 The An Dong Bridge, linking Ninh Phuoc district with Dong Hai precinct of Phan Rang city in southern Ninh Thuan Province, was built with a total investment capital of VND1.3 trillion (US$61.9 million) raised through Government bonds. — VNA/VNS Photo Danh Lam
At the plenary debate in Ha Noi, the lawmakers expressed general agreement with salient features of the Government's report as well as the NA Standing Committee's verification report on socio-economic development in 2013.
They also noted progress made in the first months of this year.
The lawmakers acknowledged efforts made by ministries and local authorities in ensuring macro-economic stability, easing difficulties for businesses, maintaining security and improving people's lives.
Minister of Industry and Trade Vu Huy Hoang informed the session that Viet Nam has set up trade ties with over 180 countries, signed eight free trade agreements and is conducting negotiations on six others.
Hoang said Viet Nam was also pursuing a policy of protecting farmers to help them gain economic growth benefits.
He said talks on the six trade agreements will be tied to the principle of respect and non-interference in Viet Nam's internal affairs as well as the imperative of narrowing the development gap.
Many NA deputies proposed that the Government assesses the potential impacts of the current East Sea situation on socio-economic development in 2014 and the coming years. They said a mechanism was needed to continue attracting investment while ensuring national sovereignty.
Most of the deputies expressed their agreement with plans to balance central and local budgets for 2013; and invest more in law enforcement forces at sea including the coast guard, fisheries administration agency and offshore fishermen.
The East Sea situation continued to dominate discussions in the afternoon session, with most NA deputies trying to anticipate possible impacts thereof on socio-economic development targets set for the year.
They also pointed out shortcomings in implementing development plans in the first months of this year, stressing the need to increase demand, boost the economy's internal strengths, ensuring social welfare, security, social order and safety, and firmly safeguarding national sovereignty.
Voters' opinions
Voter Do Thi Kim Loan, General Director of Sao Viet Timber Company said the meeting session reflected the voice of voters nationwide, emphasizing the country's determination to protect its sovereignty.
She also backed the Government's plan to spend VND16 trillion (US$756 million) supporting fishermen expand their fishing efforts further ashore and to improve the equipment of marine police defending Viet Nam's sovereignty.
Loan said that while raising the people's voice to demand China remove its oil rig, Viet Nam should also focus on developing production and trade.
Voter Pham Thu Hang, a software expert at FPT Joint Stock Company in Ha Noi, agreed, saying that the fight to protect Viet Nam's sovereignty over its seas would take a long time. Meanwhile, the country needed to prepare itself by building capacity, restructuring its economy and reducing dependence on trade with China, she said.