Foreign Direct Investment (FDI) has much contributed in the country Gross Domestic Products (GDP) but there are several problems, said experts.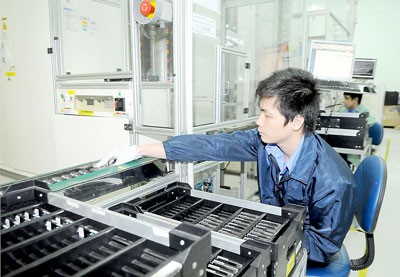 The US Greystone Data Systems Company produces hard disk drive in Linh Trung Export Processing Zone in HCMC (Photo: SGGP)
According to the country statistics, FDI capital has kept increasing over the last few years. The highest number was recorded in 2008 when registered capital reached US$72 billion.
US$10 billion has been spent on FDI projects per year for the last four years, accounting for 25 percent of social investment capital.
FDI businesses contribute 20 percent of the country GDP. The sector's export turnover accounts for 70 percent of the country total.
They have directly provided two million jobs and indirectly created 3-4 million jobs.
However, several experts have expressed doubtfulness about real benefits that the country enjoys from FDI.
Gross National Product has not increased in accordance with GDP growth, meaning FDI enterprises have transferred much their profit abroad, according to an official from the Planning and Investment Ministry.
Similarly, FDI export turnover is very high but its value added is not. The official believes that FDI enterprises in Vietnam are taking advantage of human and natural resources.
About 70-75 percent of technologies taken into Vietnam is appraised of average and below average levels, according to a study made by expert Bui Trinh. 15 percent is nearly outdated and only 5 percent is advanced.
Most FDI companies have not paid business income tax for the last several years, said associate Professor Truong Quang Thong from the University of Economics Ho Chi Minh City.
The General Department of Taxation under the Ministry of Finance inspected and uncovered hundreds of FDI businesses performing transfer pricing or evading taxes last year. Of them, the South Korean Keangnam – Vina Company had to pay VND95.2 billion of tax arrears.