Prime Minister Nguyen Tan Dung has proposed some ways to facilitate the implementation of business and investment law to government ministries, provincial and municipal people's committees and related organizations.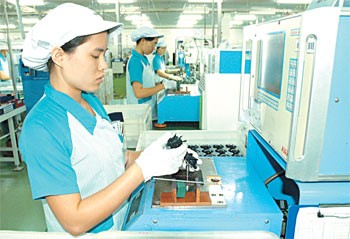 Making electronic parts for export at Japan's Nidec Corporation Viet Nam
He ordered people's committees to direct their agencies to implement business and investment law in a serious manner in order to create advantageous conditions, within the framework of law, for investors to establish and develop their businesses.
 
He asked committee authorities to deal with concerns from the business community in a timely manner and cooperate with related organizations so that they can carry out their duties as productively as possible.
Cooperation, particularly between business registration agencies and investment registration agencies, is of particular importance, he added.
 
He also said that the Ministry of Planning and Investment must work with the Ministry of Internal Affairs to support the establishment and operation of district-level business registration departments by local people's committees.