State-owned enterprises should spearhead efforts to preclude an economic stagnation and implement next year's socio-economic plans, Prime Minister Nguyen Tan Dung has said.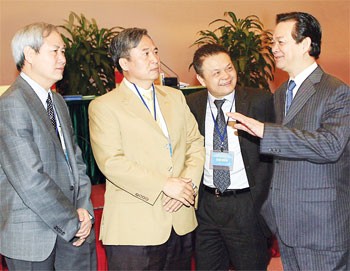 Prime Minister Nguyen Tan Dung (R) with executives of state-owned groups at a conference in Ha Noi on December 16 (Photo: SGGP)

Speaking to business executives at a meeting December 15, he urged state enterprises to continue to play their key role in production and expanding domestic and export markets.

The Government would create conditions enabling them to carry out this task, he promised.

It would also make every effort to ensure economic growth and social welfare, he said.

The Government has loosened monetary policy effectively, he said, promising a further cut in interest rates and encouragement for investment.

Mr. Dung said signs of stagnation and even recession have surfaced in recent months, as seen in the falling exports, manufacturing, tourism, and inward remittances.

Businesses, especially state-owned ones, must help head off this slowdown, he said.

To rev up the economy, the Government announced a US$1 billion economic stimulus package, which could be ramped up to $5.8 billion.

Minister of Planning and Investment Vo Hong Phuc said the problem now is how to ensure the cash flows smoothly into the economy.

Many participants at the meeting wanted the money to be used only for major projects, but others pointed out this would put small and medium-sized enterprises at a disadvantage.

Nguyen Huu Bang, general director of the Vietnam Railways Corporation, said since all enterprises have their own difficulties, the Government should support them all.

Tran Bac Ha, chairman of the Bank for Investment and Development of Vietnam, said the stimulus package should be targeted at specific areas and products.

He also urged reform of the wage policy to shore up the economy, saying it is necessary for state employees to have stable jobs and access to credit to buy homes.

To stimulate demand, Mr. Ha said, mortgage periods for state employees should be increased to 20-25 years from the current 10-15 years.

Construction of hotels, office buildings, and social housing must be prioritized, he said.

To boost the stock market, introduction of capital gains tax should be delayed until 2010, he added.

Mr. Ha also called for establishing an export-support fund to offer cheap loans to exporters in the next two years.

Le Quoc An, chairman of the Vietnam Textile and Garment Association, asked the Government to continue to cut interest rates down to 8 percent.

The PM said the Government would support banks in reducing interest rates so that small and medium-sized enterprises can borrow.

Deputy Prime Minister Nguyen Sinh Hung promised that the Government would create favorable conditions and ensure enterprises have sufficient funds to develop and to continue exports.