Prime Minister Nguyen Tan Dung has called on the banking industry to adopt effective and reasonable monetary policies and perform its crucial role well to maintain economic growth and combat recession next year.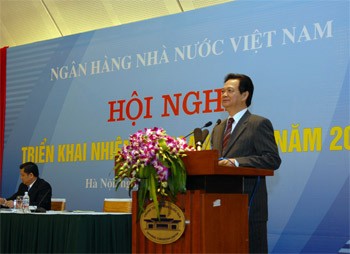 Prime Minister Nguyen Tan Dung speaks at Tuesday's meeting held by the State Bank of Vietnam to set banking directions for 2009
Speaking at a meeting in Ha Noi on Tuesday to set directions for the industry in 2009, he said the central bank must be on top of the local and global financial situations to manage and advise the Government.

Flexible monetary and exchange-rate policies are necessary to stimulate investment and spending and ensure sufficient funds for production, exports and rural development, he said.

The Government plans to earmark VND17 trillion (US$1 billion) from its economic stimulus package to subsidize loans given to companies, especially small and medium-sized ones.

Nguyen Van Giau, the central bank's governor, said the stimulus package would enable banks to lend up to VND400 trillion ($23.5 billion).

Mr. Dung said banks need to restructure loans and lend at reasonable interest rates to enterprises, adding that the sector needs to speed up administrative reforms, modernize its infrastructure, and carefully monitor credit quality.

The International Monetary Fund has forecast the global economy will grow at a mere 2.2 percent in 2009, against 3.7 percent this year, and many developed countries have slipped into recession while growth is slowing in developing countries.

Mr. Giau promised that the central bank would do everything to prevent an economic slowdown.

At another conference held the same day to review the transport sector's performance in 2008 and look ahead to 2009, PM Dung said the sector should focus on speeding up disbursement and creating investment-friendly conditions.

But speedier disbursement should not be at the expense of quality, he warned.

Capital spending has to be carefully monitored to prevent corruption and negative impacts on the nation's prestige, he also warned.

Mr. Dung urged the transport ministry to mobilize funds from the public for developing infrastructure.

Traffic safety would remain a focus next year, especially aviation and road safety, he added.

The sector hopes to spend VND20 trillion ($1.2 billion) next year on transport projects, the highest ever, half of which will come from the Government and the rest from the issue of government bonds.