Prime Minister Nguyen Tan Dung has urged the agricultural sector to build standard storage facilities to be able to buy up the country's entire farm output, export it, and ensure farmers make reasonable profits.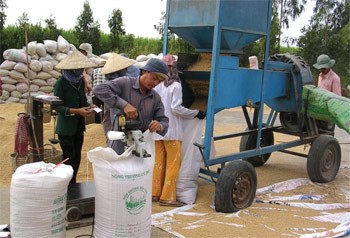 Farmers in the Mekong Delta husk rice. The Government wants rice trading companies to buy all the rice grown in the country and standard storage facilities built go store the grain (Photo: SGGP)
He was speaking at a conference in Ha Noi December 29 to discuss the outlook for the sector in 2009, which is predicted to be a difficult year.
 
He praised the contribution of the farm sector, which has achieved most of the annual targets set under the 2006-10 five-year plan.
 
Output was sharply up in 2008 despite problems like the global price fluctuations, rising costs, and severe cold spells, he said.
 
Rice output reached a record high of 38.6 million tons.
 
But Mr. Dung said the sector also has some weaknesses, such as volatility, lack of competitiveness, and problems relating to food safety.
 
Truong Thanh Phong, chairman of the Vietnam Food Association, said rice exports would face severe hurdles next year because of the global recession. Many countries have stockpiled the grain as a precaution.
 
Vietnam is likely to harvest a bumper rice crop, he added.
 
Minister of Agriculture and Rural Development Cao Duc Phat said one of the important tasks for 2009 is finding markets for agricultural produce, especially rice.
 
The PM said if rice production is forecast to rise next year, it is imperative to build storage facilities.
 
He said the time is also propitious since construction material prices have fallen by half. The Government is willing to meet half the construction cost so that rice traders can build facilities to store 3-4 million tons of rice, he said.
 
Standard warehouses with a capacity of around two million tons are needed since Vietnam is the world's second biggest rice exporter, he said.
 
If there is sufficient storage space, enterprises can buy all the rice harvested so that farmers can focus on growing quality rice and the enterprises can export whenever they find international prices high, the PM  said.
 
Vietnam must push rice exports, he said, emphasizing that his Government would ensure that the entire harvest is bought to encourage farmers.
 
He ordered food companies to keep buying rice since there is enough space to store up to one million tons and the country seeks to export 2.4 million tons by June next year.
 
Mr. Phong assured that the Vietnam Northern Food Corporation and the Vietnam Southern Food Corporation would buy up the entire winter-spring crop at VND3,500-4,000 per kilogram, ensuring farmers get healthy returns.
 
For 2009 the agriculture ministry has set a rice production target of 37.5-38 million tons and exports of 4.5-5 million tons.