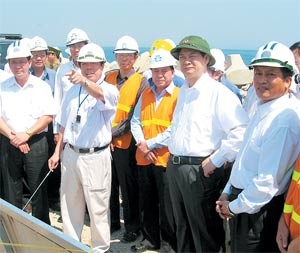 PM Dung (2nd, from R) visits the construction site of the Dung Quat Oil Refinery.
Construction of the all-important Dung Quat Oil Refinery is already six months behind schedule and further delays will be costly for the oil industry and the nation's development as a whole, Prime Minister Nguyen Tan Dung warned while visiting the refinery site on the central coast.
After hearing a progress report, the Prime Minister stressed that the project is an important initiative and must be completed soon.
He observed that the pace of construction has picked up, but not by enough, and more discipline is needed to ensure timely completion of the refinery.
The Government leader told the French EPC contractor Technip to quicken the pace of construction in order to meet the self-imposed deadline it committed to the Viet Nam Oil and Gas Group.
He said Technip and the Viet Nam Oil and Gas Group must work to meet the commitments and conditions in their contract with the Vietnamese Government.
Construction of the breakwater, conveying channel, delivery dock (tenders 5A, 5B) must be finished in mid 2007.
Las year, the Viet Nam General Confederation of Labor and the Viet Nam Oil and Gas Corporation launched a competitive program to boost the construction of Dung Quat Oil Refinery for the Ministry of Construction and more than 10 contractors.

The plan is to finish the breakwater, conveying channel, delivery dock (tenders 5A, 5B) in the middle and at the end of 2007 respectively, so that the power plant, processing zone, non-port oil filling system, crude oil pipelines, and the pipelines to carry refined oil to the storage tanks (tenders 1, 2, 3, 4) can be in place by early 2009.
Located in Quang Ngai province, Dung Quat Refinery will be able to process 6.5 million tons of crude oil annually and meet about 30% of the domestic demand for gasoline and lubricating oils.