On occasion of Hung Kings' anniversary, the number of customers shopping in supermarkets showed a sharp increase, with a rise in sale of essential commodities like fresh fruits, vegetables and eggs.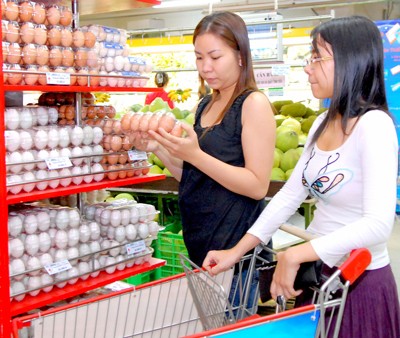 Price of eggs increased drastically compared to early April ( Photo: Cao Thang)
Fresh food items like squid, anabas, tomatoes, cucumber, watermelon, grapefruit, and coconut were much in demand. Besides edible commodities, household goods such as fans, liquidizers, and clothing were also selling well.
Contrary to the scene in supermarkets, buying power in traditional markets during the holiday break showed a sharp decline. While price of fresh foods was stable in supermarkets in the past week, the price at retail stores of cosmetics, processed foods and clothing showed an increase.
Toiletries like shampoo, conditioner, shower gels and body lotion went up by VND1000-2000 per item. Foods such as noodles, cooking oil and monosodium glutamate also went up from 2-5 percent.
Price of eggs in traditional markets increased by more than 20 percent compared to early April. First quality eggs went up from VND 2,800-2,900 per egg; while second and third quality eggs went up by VND 2500-2700 per egg. First quality duck eggs went up by VND3600-3700 per egg; and second quality by VND3,500-3,600 per egg.