Overseas remittances to Vietnam have remained the yearly increase level of US$1 billion since 2011 and hit US$12 billion last year. Experts forecast remittance volume would continue the momentum to hike beyond US$11 billion in the 2015 - 2016 period because overseas Vietnamese have tended to invest in their homeland and labor exports have more and more risen.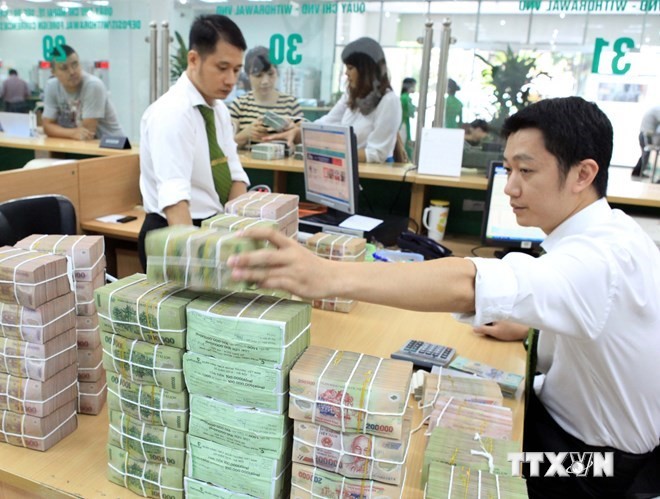 Oversea remittances to Vietnam are forecast to increase beyond US$11 billion a year in 2015 and 2016 (Illustrative photo: VNA)
Last year the remittance volume increased over 10 percent against the previous year to reach US$12 billion. Of these US$5.1 billion was remitted to Ho Chi Minh City, up US$200-300 million. HCMC remittances have accounted for 40-50 percent of that to Vietnam for the last recent years.
According to World Bank's statistics, Vietnam remittance volume has kept increasing for the last ten years. In 2000, only US$1.75 billion was transferred to the country. It went up 117 percent to touch US$3.8 billion in 2005. The volume continued climbing to US$7.2 billion in 2008 when the world economic turmoil occurred. The remittances reduced 11.5 percent in 2009 but gained US$8 billion in 2010.
Vietnam is ranked the 16th out of 20 nations receiving most remittances by WB and the second in the Southeast Asia.
Since 2011, the remittances continuously posted impressive increase levels of US$1 billion a year obtaining US$9 billion in 2011, US$10 billion in 2012, US$11 billion in 2013 and US$12 billion in 2014.
In a WB's migration and development report announced April last year, India was the largest remittance receiving country with US$70 billion last year, followed by China with US$60 billion, the Philippines US$25 billion and Mexico US$22 billion.
Vietnam is estimated to be one of countries seeing robust remittance growth in recent years, according to the report.
In another report by the Central Institution of Economic Management (CIEM), the remittance volume grew an average of 38.6 percent in the phase of 1990-2014.
Total remittance value to Vietnam topped US$80 billion as of 2013 and has exceeded US$90 billion so far, equivalent to 8 percent Gross Domestic Product.
From 2010 to 2012, remittances transferred to Vietnam from the U.S. accounted for 57 percent of the total official remittances. The volume transferred from Australia, Canada, Germany, Cambodia and France were 9 percent, 8.4 percent, 6 percent, 4 percent and 4 percent respectively.
Last year remittances mainly came from America, Europe and Asia including ASEAN nations, South Korea, China and Japan. The volume from Asia increased 3 percent over 2013 accounting for 5.2 percent of the total amount remitted to Vietnam.
Important role
Besides about 4.5 million Vietnamese resettling in 100 nations and territories worldwide, the number of labor exports has been increasing in recent years with about 500,000 people working throughout the world. These two groups have contributed to the vigorous remittance growth to Vietnam for the last recent years.
Remittance attraction policy has been improved. Beneficiaries can choose receiving the remittance in Vietnamese dong or foreign currencies and in cash or via bank transfer. If receiving foreign currencies, they can sell to credit institutions and deposit in permitted banks. Especially remittance receivers do not have to pay taxes on the amount they get.
Besides remittance receiving and transferring services through official channels have more and more improved with the attendance of most commercial banks and about 23 companies. Transferring fee is low--about 0.05 percent of the remittance volume and not exceeding US$200.
Interest rate difference between Vietnamese dong and foreign currencies in the country, and foreign  currency deposit interest rates in Vietnam far higher than other countries have attracted remittances to the country.
A CIEM study shows that remittances to Vietnam have mainly been deposited in banks or investing in gold and real estate.
Specifically, 35.1 percent of the source has been used for daily expenditures, 16.2 percent for production and trading, 11.1 percent for debt payment, and 10.5 for savings. About 3.4 percent has been for charity and remitters' relatives.
Mr. Nguyen Hoang Minh, deputy director of the State Bank of Vietnam in HCMC, said that 71.4 percent of remittances to the city last year were invested in production and trading, 22.1 percent in real estate, and the rest volume was sent to relatives.
Ms. Patricia Z.Riingen, senior vice president for Southeast Asia and Oceania Western Union, said that remittances had greatly contributed to Vietnam's economic growth, helped improve the balance of payment and remaine high forex reserves, increased average income, improved resident's life, and contributed to ensure social welfare.
Economic experts forecast that from 2015 when Vietnam implements trade agreements, labor exports will further increase making the remittance volume to continue growing. The policy of permitting foreigners to buy houses in Vietnam effective lat year will also lure remittances.