Vietnam exported 700,000 tons of rice in April, 27 percent higher year on year, to take the total quantity so far this year to 2.3 million tons, the highest four-month volume since it began exporting the grain 20 years ago.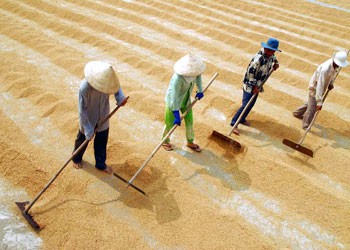 Rice harvested in the Mekong Delta
The April exports were worth nearly US$900 million.
At present, rice export companies signed contracts for exporting 4 million tons of rice and 2.3 million tons was exported.
Economists warn, however, that authorities and businesses need to cooperate to ensure the large-scale export of the grain does not cause any disadvantage, including to the nation's food security.
Traditional markets like the Philippines, Cuba, and Malaysia remain promising markets for rice, they said, but Vietnam should pay special attention to Africa because of the positive economic situation in parts of the continent.
They said Africa would soon become a major market for Vietnam's rice exports.
Truong Thanh Phong, chairman of the Vietnam Food Association, said under the current situation, rice shipments could exceed the year's target of 5 million tons, also a record level.
Vietnam exported rice to 128 countries and territories last year.