Vietnam's rice exports have faced difficulties since 2013 with output dropping from nearly 8 million tons in 2012 to 6.5 million tons three years later and possibly to below 6 million tons this year.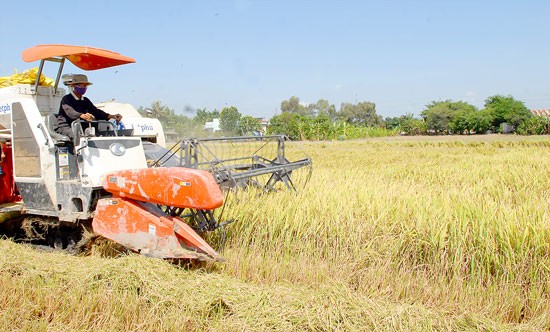 The combine harvester in a rice field in the Mekong Delta (Photo: SGGP)
Rice export value has also fallen since 2010. It decreased to US$2.6 billion in 2015 from $3.5 billion in previous years.
By the end of August this year, Vietnam shipped only 3.3 million tons worth $1.5 billion, down 16.6 percent in volume and 13.1 percent in value.
Traditional markets of the country saw a strong reduction, for instance the Philippines decreased 66.4 percent, Malaysia 54.5 percent and Singapore 36.3 percent.
This year, only the first quarter saw an increase thanks to contracts signed last year. Afterwards, the situation has become such difficult that the country has adjusted rice export target to below 6 million tons in 2016.
Besides a bid, which Vietnam Food Corporation (Vinafood), won in August to export 150,000 tons to the Philippines at the price of $424.85 a ton, businesses said that it is possible that the Philippines will offer other bid packages but the volume will be smaller.
Government-Government contracts will no longer be easy as the above nations have showed their determination to develop production to meet domestic demand.
The Philippine Government has revealed that it would give farmers financial assistance covering input costs from seed, fertilizer and irrigation to obtain the target as soon as possible.
After buying about 70,000 tons of rice early this year, Malaysia has showed no signs of more import demand.
For the last many years, China has been the largest market of Vietnamese farm produce including rice. However this market has no longer been smooth for businesses after the Ministry of Agriculture and Rural Development signed a protocol with China by the end of May.
According to the protocol, rice and bran must be quarantined and sterilized before being sold to the country.
China required the ministry to send a list of 30 businesses in the need of rice and bran export to the country as well as the name of a firm entitled to conduct the decontamination for consideration.
 
However, China has yet to recognize Vietnamese assessment and sterilization firms to control rice quality sold to the market. In addition, it has tightened trade across borders. These have sent Chinese traders to buy rice from Pakistan or Myanmar instead of Vietnam as they used to.
As a result, rice export to China experienced a year on year reduction of 21 percent in volume and 11.9 percent in value in the first seven months.
Although domestic rice supply was limited this year because of long-lasting drought, experts have still warned of a redundancy when the autumn winter crop enters harvest time in the upcoming months.
The Ministry of Agriculture and Rural Development has formerly called on the Mekong Delta to expand production in the autumn winter crop to make up damage in the previous crops.
It will be the process of overcoming difficulties from now until the end of this year, according to director of the Southern Food Corporation Huynh The Nang.