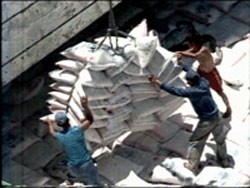 Rice is uploaded to ships at the Mekong Delta.
Vietnamese exporters had signed contracts to deliver 2 million tons of rice by the end of March, of which 1.5 million tons were to be delivered in the first quarter of 2006, reported the Ministry of Agriculture and Rural Development.
Besides many familiar markets like the Philippines and Middle Eastern countries, Vietnamese rice has been exported to potential markets including Japan, South America and Africa. Viet Nam set its target to export 5 million tons of rice in 2006.
Recently, the world's biggest rice exporter Thailand decided to cease rice exports in its bid to guarantee the capacity to meet domestic demand. The international rice price currently stands at US$290 per ton.
Related Articles:
Rice Production Plan Needed to Receive Loans: Banks
Only Five Million Tones of Rice to Be Exported in 2006