Despite economic difficulties, exporters have stepped up their operations to meet this year's export target of US$4.25 billion worth of seafood. In July, exporters shipped over 136,000 tons of seafood worth US$476 million to achieve the highest monthly growth in the past three years.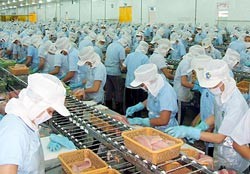 Processing tra and basa fish at Nam Viet Co., An Giang province

Target is within reach
Viet Nam's export revenue from seafood over the past seven months was about US$2.4 billion, up 20 percent compared to last year. Of this amount, frozen shrimp accounted for 32.8 percent, tra and basa fish 31.9 percent and other seafood 35.3 percent, according to the Viet Nam Association of Seafood Exporters and Processors (VASEP).
Vietnamese tra and basa fish exported to Russia in July surged 64 times from a year ago, while seafood exported to Ukraine doubled to US$22 million. Exports to Europe, Japan and South Korea grew steadily.
At the current rate of development, a target of US$4.25 billion set for the year is within reach, said Nguyen Huu Dung, the VASEP standing vice president. One major favorable factor is that demand for seafood usually rises in the late months of every year, Mr. Dung said.
Another advantage is that the U.S. Department of Commerce has recently lifted its anti-dumping tariff on three Vietnamese businesses: East Sea Seafood Joint Venture, Dong Thap QVD Food Co., Ltd. and Viet An Joint Stock Company, said Dung.
Mekong-based Nam Viet, Agifish, Hung Vuong, Vinh Hoan and Cafatex have reached an agreement on raising the export prices of tra and basa by 5 percent, said Luong Le Phuong, Deputy Minister of Agriculture and Rural Development. This rate can be considered a floor price for these export items, he added.
In October, the ministry will send a business group to Russia to promote trade and exports, said Phuong.
Insufficient supply
In the ongoing race to export, seafood exporters said that they face a lack of capital, electricity and supplies.
To tackle these problems, Deputy Minister Hoang Trung Hai has directed the State Bank of Viet Nam to prepare sufficient capital to make loans to seafood exporters within a feasible lending system.
He also ordered the Vietnam Electricity Group to ensure a steady supply of power for seafood processing enterprises.
Affected by economic difficulties in the past months, tra and basa breeders in the Mekong Delta have suffered heavy losses, according to the ministry. Many of them can not maintain their breeding, so a lack of raw seafood to process is likely to be unavoidable in the last quarter, said the ministry.
"Surveys showed that 20-30 percent of breeders failed to continue their operation," said Phan Van Danh, the president of the An Giang Seafood Producers and Processors Association. "We are very concerned about an exhausted supply of fish later in the year, but we have not yet found any solutions to this."
In many provinces, including Ca Mau, Soc Trang and Bac Lieu, shrimp processing factories are anxious about a lack of supply. The Ca Mau province's Department of Agriculture and Rural Development said that most processors are operating at just 50-60 percent of their capacity because of a slowdown in supply. The last quarter may see 30 factories without enough shrimps to export.
Annual total output of frozen seafood processors is estimated at 1.5 - 1.7 million tons of finished products, corresponding to 4.5 - 5.1 million of unprocessed seafood. Meanwhile, the supply of raw seafood is less than 3.2 million, according to the VASEP.
To make up for this shortage, the association has suggested the ministry strengthen the import of seafood.
"If we spend US$1-2 billion per year to import seafood from North Europe, North America, South America and South Pacific, we can increase export turnover by US$1.8 - 3.5 billion, and even may earn an export turnover of US$6 - 8 billion a year in the years to come," said Dung.
Importing raw seafood is a long-term vision that may help Viet Nam overtakes Thailand, the U.S., and Canada to become the world's second largest processor and exporter of seafood, after China, according to Dung.
China, the U.S. and some other countries already import raw seafood. The association has asked the government allow the import of raw seafood with a tariff of 0 or 0.5 percent, as Thailand and Malaysia have done.