The decrease in the nation's Consumer Price Index (CPI) of 0.19 percent is a positive development since enterprises have been badly hit by inflation, but the nation has to beware of the situation slipping into a serious deflation, a senior official has warned.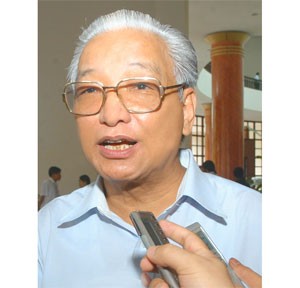 Cao Sy Kiem, member of the National Advisory Council for Monetary Policies (Photo: SGGP)
Cao Sy Kiem, a member of the National Advisory Council for Monetary Policies, (and former State Bank of Viet Nam Governor), told Sai Gon Giai Phong that the drop in CPI shows that the Government's eight measures to curb inflation have been effective.
 
The country's consumer price index (CPI) in October dropped 0.19 percent against last month, the first decrease since the beginning of the year.
 
The country's current GDP rate of 6.5 percent is high compared to the world. This can guarantee stable incomes and jobs for citizens and stimulate consumption. Therefore, a light deflation does not matter.
 
However, he warned, if the growth rate continues to drop and the rate of deflation increases, especially because small and medium sized enterprises fail to do better, the Vietnamese economy will face great difficulties.
The sustainable development of small and medium enterprises should be a matter of concern. If they go bankrupt, the country's growth rate will reduce rapidly and deflation will become a pressing matter, he said.
 
The Government would then have to release capital into the economy to stimulate demand, and controlling deflation could prove more difficult than dealing inflation, Mr. Kiem cautioned.