Prices of rolled steel have climbed to a record high of VND15-17 million (US$937-1,062) per ton at shops for more than a month while output prices are much lower at steel companies.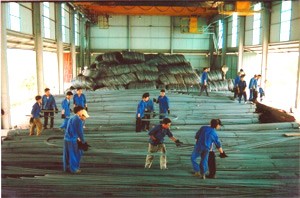 Steel prices have soared abnormally at shoprs for more than a month
The sky-high prices have surprised steel industry authorities. Vietnam Steel Association Chairman Pham Chi Cuong said shops have reduced volume and asked higher prices for fatter profits.
He called the prices being asked "virtual prices" because, even if adding 5 percent for VAT, steel should still be less than VND12 million (US$750) a ton. Thep Viet's rolled steel, the most expensive on the market, is sold at only VND11,600 (US$0.725) per kilogram, while bar steel remains unchanged at VND11,270-11,280 (US$0.704-0.705) per kilogram.
"Therefore, I can say the VND15 million per ton price level is unacceptable and I'm sure there is no speculation about that at this moment because supply is now exceeding demand," Mr. Cuong said.
Total industry capacity is some 6.5 million tons while consumption is only 4 million. With the average mill having a capacity of some 400-500 tons per day, some having 1,000-ton capacities, local demand should be satisfied.
He said local factories are expected to churn out 4.2–4.3 million tons of rolled and bar steel by the year-end, while 2 million tons of steel ingots must be imported, 50 percent of domestic ingot needs. The country can thus produce 50 percent of total ingot needed for local production.
Therefore, it is somehow concluded, a shortage of steel must not occur before year-end.
Mr. Cuong said steel producers cannot raise their selling prices unexpectedly and unreasonably because there is a monitoring network which also supervises them. But retail and steel working shops can raise indeed ask for whatever price the market will bear to maximize profits: Econ-101 déjà vu.
Authorities should soon track down the real causes of steel price hikes and take appropriate measures to control them and protect consumers, some might say.