The Government's US$1 billion stimulus package, to be spent next year, will particularly benefit social security programs, Minister of Planning and Investment Vo Hong Phuc has said.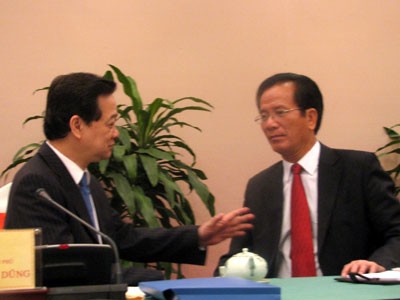 Pm Nguyen Tan Dung (L) and Minister Vo Hong Phuc at the meeting with state corporations in Ha Noi on Tuesday
Speaking on the sidelines of a meeting between Prime Minister Nguyen Tan Dung and state corporations on December 16, Minister Phuc said the money, to come from the $22 billion foreign reserve, would be used for building housing for workers, students and the poor and for major traffic infrastructure projects.
Investors would be provided loans to develop these projects but their responsibility would be spelled out before they choose contractors and call for bids, he said.
His ministry is working on the details of the package that is set to be unveiled at a Government meeting, he added.
Concurring with views that the money should be spent only on significant projects, Mr. Phuc said the stimulus package would have a clear focus.