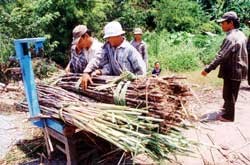 Farmers in Hau Giang Province are harvesting sugarcane.
The price of sugarcane in the Mekong Delta has reached the 15 years' record of VND700 per kilo, more than doubling that of the early crop.
However, there is not much unharvested sugarcane in the field now.

Hau Giang Province, the biggest sugarcane growing region of the Mekong Delta with 13,800 hectares, has only around 1,000 hectares unharvested in Long My District, according to General Director of Can Tho Sugarcane Joint-Stock Company Nguyen Thanh Long.

The province's farmers are expanding the sugarcan growing areas, expected to reach 15,000 hectares for the next crop.
In Hau Giang Province, harvest has been completed on 80 percent of new sugarcane varieties areas with an average productivity of 110 tons per hectare. Each farmer is estimated to get VND30-50 million per hectare of sugarcane.