Low-income earners in Hanoi have a golden chance to own a place to live as thousands of low-cost houses will make debut in the first three months of the year.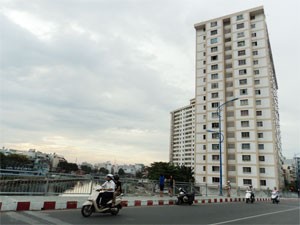 Thousands of low-cost houses debuting this year in Hanoi help low-income earners to buy a shelter (Photo:Minh Tri)
Construction firm Vinaconex Xuan Mai announced it would offer 900 residential houses for low-income earners in Ha Dong District this month. The sales came after the firm sold low-cost houses CT1 Ngo Thi Nham in the district last year.
Vinaconex Xuan Mai will receive applications for buying the houses in nearly one month, ending on Mar 10. Residents in Hanoi will be welcome to submit their buying applications.
Last year, only buyers living in three districts including Ha Dong, Thanh Xuan and Dong Da were allowed to apply for a place in the CT1 Ngo Thi Nham as the amount of applications significantly outnumbered the amount of houses.
Builder TCT Viglacera also has good news for low-income earners, with their low-cost house project in Dang Xa, Gia Lam District available in early April. Buying applications for a similar construction project of the firm in Dai Mo, Tu Liem District are also being taken.
Two low-cost house projects of the No.3 and No.5 Hanoi Housing Development and Investment JSC in the new residential zone Sai Dong will also make debut soon this year.
Statistics from the Ministry of Construction show 37 low-cost house projects with the total investment of nearly VND3.6 trillion (US$180 million) were built on a total area of 750,000 square meters last year.  
Up to 728 out of 64,000 houses of the projects have been sold so far. The Ministry is cooperating with relevant units to mobilize capital in an effort to speed up the progress of low-cost house projects, with a target of offering around 70,000 houses in 2011 and 700,000 in the period between 2011 and 2015.
Analysts said the large supply of residential houses this year would help cool off the property prices in Hanoi, which were skied high due to speculation.
"Low-cost houses are becoming an important segment of the property market in Hanoi. However, there is a long way to go for the segment to develop," said a real estate expert.
Construction firms remain unwilling to attend low-cost house projects due to red taps and inadequate policies, he said.
Property firms found social housing projects with low return rate and long payback period are not good deals. They also concern on the fact that buyers have to meet the government's requirements.
A director of a property company, who asked to be unnamed, said property firms struggle to make profit with the return rate of 10 percent as many expenses from the construction projects couldn't be shown in account books.
Social housing projects will be more attractive to property firms if the city's government buy back social houses right after the projects finish, he recommended.
"The move of the property market this year are unpredictable as it will likely to be effected by many factors. If 700,000 low-cost houses are available as scheduled this year, they will be the main factor curbing the bubble on the market," a property broker said.