Thua Thien-Hue has attracted US$1.6 billion in foreign direct investment (FDI) this year, the highest among provinces in the central key economic zone.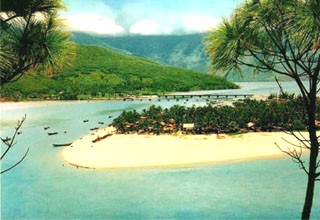 Chan May-Lang Co key economic region in Thua Thien-Hue Province
The 12 new projects this year take the cumulative number to 67 and total registered capital to US $2.3 billion. Of this US $300 million has actually been disbursed.

Most of large projects involve construction of resorts, five-star hotels, and villas.

Many of the foreign-invested companies here are reportedly successful, and make up 39 percent of the province's industrial production and up to 42 percent of the revenues.

Some of them have built well-known brand names like Huda and Festival beers, Luks cement, and Century hotel.

Foreign projects have also created 8,000 jobs.

Le Dinh Khanh, deputy director of the Planning and Investment Department, said the province ranked 15th out of the country's 65 provinces and cities last year in terms of economic competitiveness.

To attract investment, the province has implemented some large infrastructure projects, including the Phu Bai International Airport, the Chan May deep water port, the Hai Van Pass tunnel, and the Ho Chi Minh Road.

The province hopes to attract FDI by improving its investment environment, assisting foreign-invested companies, and efficiently implementing the Government's policies on guiding investment in the Chan May-Lang Co key economic region, Phu Bai Industrial Park and Bach Ma tourism region, Mr. Khanh said.

It is encouraging investment in areas like tourism, processing, and high technology, he added.