Trade and economy ministers from 12 countries signed the Trans-Pacific Partnership (TPP), the biggest trade deal in history, in Auckland, New Zealand yesterday.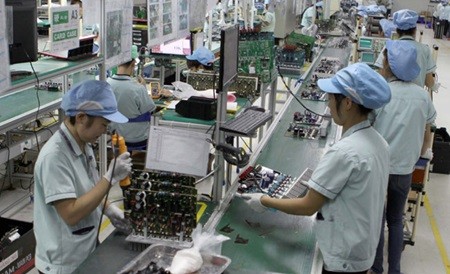 Electronics being manufactured for export at Electronics Viet Nam Co in northern Ha Nam Province. (Photo: VNA/VNS)
Pacific rim nations joining the pact are Canada, Brunei, Chile, Malaysia, Mexico, New Zealand, Peru, Singapore, Australia, the United States, Japan and Viet Nam.
The TPP aims to slash tariffs and trade barriers for 40 per cent of the global economy. It is set to create a free trade area with 800 million consumers and 30 per cent of global trade revenue.
Besides regulating trade of goods and services and investment, the 6,000-page deal also provide rules related to issues such as intellectual property, labour, e-commerce and State utility enterprises.
Authorised by Prime Minister Nguyen Tan Dung, Minister of Industry and Trade Vu Huy Hoang took part in the signing ceremony.
Addressing the event, New Zealand Prime Minister John Key affirmed that the agreement, by liberalising and facilitating trades across Asia Pacific, would bring about the best benefits for all member countries and their citizens.
In a joint statement, the ministers said yesterday's conclusion of the TPP was an important milestone, which opened up a new phase in implementing a pact that is considered a "historic achievement" for the region.
The countries will have the next two years to complete domestic procedures, including the ratification by their parliaments, before the agreement enters into force.
The agreement can take effect only with the approval of at least six countries, which account for at least 85 per cent of the combined gross domestic product of all member nations.
This means that it needs to be adopted by the parliaments of the two largest TPP economies, the US and Japan.
The statement also said that the agreement aimed at intensifying common prosperity by generating jobs, promoting sustained economic development and creating a foundation for higher integration standards for member countries in the future.
The Ministry of Industry and Trade (MoIT) announced on its website that Minister Hoang, on behalf of the Government, also inked 35 bilateral agreements related to financial services, garment and textile, agriculture and intellectual property with TPP nations. These agreements will take effect at the same time TPP enters into force.
Business facilitation
At a forum held during Hoang's visit to New Zealand on Wednesday, officials from Viet Nam and New Zealand signed memoranda of understanding on fostering trade relations, industrial investment and business facilitation between two countries.
Enterprises from two sides also met to study cooperation opportunities, which were said to be showing great potential. Two-way trade values increased from US$295 million in 2009 to $707 million in 2015.
New Zealand has demand for Vietnamese products such as apparel, footware, furniture, farm produce and seafood, while Viet Nam needs to import more milk, metals, chemical substances and materials for timber and garment production from New Zealand.
On Monday, Vietnamese and Australian businesses also explored trade and investment opportunities that would be created by the TPP during a forum held in Sydney.
The forum heard that oil and gas, coal and services were Australia's strengths, while Viet Nam had potential in garments and textiles, footwear, farm produce and seafood for bilateral co-operation.
Viet Nam also expected to receive more support from the Australian government and businesses in the fields of thermal coal and liquid natural gas.

Before his trip to New Zealand, Hoang told Vietnam News Agency reporters that, although domestic enterprises had been prepared for challenges from integration, some sectors may meet significant difficulties from the TPP.
He noted that Viet Nam still had low labour productivity with small-scale production modes and high production costs, while its ability to take part in global manufacturing and supply chains remained limited.
Following Government directives, the MoIT along with relevant ministries and sectors have proposed a roadmap that enables Viet Nam to perform commitments step by step. "This is a measure to protect domestic production," he said.
"However, the protection time is limited, requiring domestic businesses to build plans to promote advantageous products and improve competition capacity now," he added.
Australia Minister of Trade Andrew Robb told reporters yesterday that the signing of the TPP would be a motive for trade negotiations within the Regional Comprehensive Economic Partnership, another regional free trade agreement led by China, to be completed this year.
The TPP is an expansion of the Trans-Pacific Strategic Economic Partnership Agreement (known as P4), which was signed by Brunei, Chile, Singapore and New Zealand in 2006.
In the beginning of 2008, more nations agreed to enter the talks, bringing the total number of participating countries to 12. Viet Nam entered the accord in November, 2008.
Nineteen formal rounds of TPP negotiations have been held since March 2010, along with six ministerial meetings and numerous meetings of chief negotiators and technical groups, before all negotiations were completed in October 2015.
The MoIT posted the full agreement in four languages- Vietnamese, English, French and Spanish - on this link:http://tpp.moit.gov.vn.