Viet Nam and Japan on Friday signed five bilateral investment agreements, following the talks between visiting Vietnamese Prime Minister Nguyen Tan Dung and his Japanese counterpart, Shinzo Abe, in Tokyo.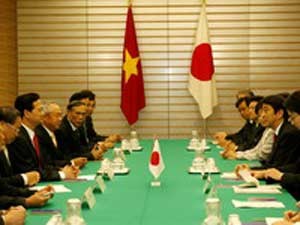 Leaders of Viet Nam and Japan join a meeting on October 19.
Vietnamese Prime Minister Nguyen Tan Dung has joined a singing ceremony of the five bilateral investment agreements on Friday.
Under the agreements, the Vietnamese Ministry of Planning and Investment and the Japanese Sumitomo Group will join hand in promoting cooperative programs in trading, the Ha Tay Development and Investment joint-stock company and the Japanese MEIKO Electronics Company will set up a US$300-million electronics factory.
Another high-tech and electronics components manufacturing factory, worth US$110 million, will be jointly established by the Viet Nam Development & Investment Group and the Japanese VMC Electronics Company.
Other two agreements are valuable exporting contracts on garment and textile products between Vietnamese leading garment enterprises Phuong Dong, Viet Tien and their Japanese partners.
Also on the same day, the Vietnamese Prime Minister joined a conference on investment in Viet Nam in Tokyo, which drew the participation of over 400 Japanese enterprises.
The PM briefed on Viet Nam's socio-economic development progress, investment environment, and recent achievements of the nation during the 20 years of renewal.
Answering Japanese enterprises' questions on the Vietnamese economy's changing trends after joining the WTO, Mr. Dung reviewed that Viet Nam's 11-year long process of negotiation has been concluded successfully and the country is carefully studying the potential opportunities and challenges.
"Viet Nam has carried out a detailed action plan for its WTO entry, in a bid to take full advantage of its current economic strengths as well as reduce the possible difficulties. Viet Nam aims at maintaining an economy of stability and development after joining the WTO and its business community is ready to brace coming challenges," the PM added.
Early in the day, PM Dung received representatives from the Japan External Trade Organization, the Japan Bank for International Cooperation, the Japan Federation of Economic Organizations and other major Japanese groups, who expressed their wishes to expand operation in Viet Nam.
The PM has introduced them to investment opportunities and operational objectives of the Hoa Lac Hi-tech Zone in Ha Noi 's outskirts, stressing that a number of preferential policies and measures for encouraging foreign investment in the zone are being carried out by the Vietnamese Government.