The total foreign direct investment (FDI) capital in the first two months of the year decreased to US$1.23 billion, a significant improvement from January, according to the Foreign Investment Agency under the Ministry of Planning and Investment.
During the period, Vietnam licensed 40 more new foreign investment projects with a total registered capital of nearly US$881 million. The country also approved another 20 existing projects to add nearly $312 million to its registered capital three times over the modest figure of $40 in January.
The Department said that total FDI capital disbursement in the first two months amounted to $1 billion.
According to preliminary figures from the General Statistics Office, total FDI capital disbursement in the first two months reduced by 9 per cent in comparison with the same two months in 2011.
Manufacturing and processing were the most attractive sectors for foreign investors, with 26 projects bringing in $990 million or 81 per cent of the country's total FDI capital in January-February, the office reported.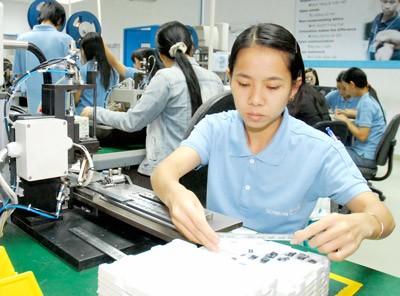 Workers in the Ho Chi Minh City based Danish FDI Sonion factory make telephone parts
The fund in real-estate was US$ 100,000 with only one project. The country this year hopes to attract $15-16 billion of FDI registered capital and expects that roughly $10-11 billion will be disbursed.
Experts say the Government should revise many of the current incentive policies in an effort to meet the target figure.
Logistics and retail sectors followed in second place with capital volumes of $180 million and $27.1 million, respectively.
Japan topped the list of 23 countries and territories with projects in Vietnam in the first two months, with more than $1 billion in registered and additional capital invested. Taiwan (China) and Singapore ranked second and third, the office said.
The northern port city of Hai Phong was the most attractive destination to foreign investors as it absorbed nearly $606 million, followed by the provinces of Khanh Hoa and Binh Duong.
However, an official from the Foreign Investment Agency under the Ministry of Planning and Investment said the country would value quality over quantity, considering the effectiveness of potential projects rather than amount of registered capital.
The trade deficit in February is US$800 million with export volume touching $8.2 billion, an increase of 15.6 percent against January and import volume of US$9 billion, an increase of 30 per cent against January.