With petroleum prices rising towards year's end and transport demand increasing, transport companies have begun to revise pricing upwards and costs of transport and travel are expected to rise 7-9 percent on average.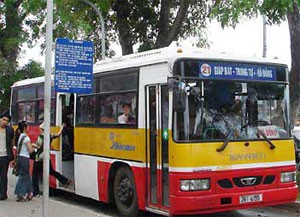 The bus is now  a main means of transport for many local residents

 

While no major transport company has reported raising its prices yet, small operators began hiking theirs as petroleum prices rose.
Besides his regular coach ticket, a passenger on a Nghe An to Ho Chi Minh City bus now has to pay a so-called petroleum surcharge of VND30,000. A passenger on a Ha Noi, Ho Chi Minh City coach has to pay an extra 10 percent of ticket fare.
Eastern Coach Station Director Nguyen Ngoc Thua confirmed coach-service companies are planning to increase their fares 5-10 percent and stressed he expects fares to rise 60-80 percent before the lunar new year holidays, "Tet". 
As to taxi rates, Mai Linh Taxi General Director Truong Quang Man pointed out gas prices have climbed VND1,700 to over VND13,000 a liter, so taxi companies would have no choice but to raise fares to their upper limits, VND400-500 per kilometer.
Man added that whether or not fares will rise depends on the Vietnam Taxi Association but he also asserted Mai Linh is now losing some VND200 million (over US$12,000) a day on average at current fares.
Notably, taxi drivers are now asking an extra VND5,000-10,000 beyond what appears on their meters, purportedly to cover gas price inflation. But they are in fact compensated VND1,000 per liter by their companies.
As to bus fare, the deputy director of the HCMC Department of Communications and Public Works Duong Hong Thanh yesterday said that the department has proposed the city People's Committee apply new fares based on the current increased petroleum prices. If approved, payment of compensation to bus transportation companies will reflect new petroleum prices of VND13, 000/liter set on November 22.
Private trucking companies are being particularly hard hit. Many signed long-term contracts before petrol prices rose and competition limits how much they can charge. Though few if any have raised their rates, many rates are expected to rise 5-10 percent. The Vietnam Transportation Association estimates 7-9 percent.