The United Nations Conference for Trade and Development recently made public its "World Investment Report for 2006," which said that Viet Nam has become more and more attractive for foreign investment.
"Viet Nam has really become a new choice of many international investors and has attracted new projects from big groups like Intel," pointed out UNCTAD Secretary General Supachai Panitchpakdi, "which has begun a US$300 million project to build the country's first semiconductor factory."
FDI attraction grows rapidly
Although the inflow of foreign direct investment (FDI) to Viet Nam is still modest compared to big economies in the region like China or Singapore, the country is still among the economies with high growth rates in FDI attraction (nearly 40%).
The report notes the rise of Viet Nam's indexes on investment attraction in 2005 by one grade from 2004, ranking them 53rd out of the total 141 economies.
In 2004, Viet Nam was seven grades behind China but by 2005 it had overtaken China by two grades.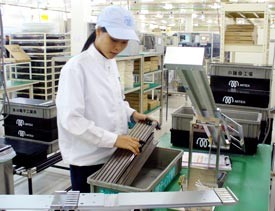 Electronic products, which is among the attractive fields to foreign investors in Viet Nam, are assembled at the Japanese-invested MTEX manufacturer in Ho Chi Minh City. (Photo:TK)
The report shows that Viet Nam and Southeast Asian nations continue to lure large portfolios, demonstrated by the growing increase in value per project as opposed to an increase in project quantities. The most attractive fields to foreign investors in the region are automobiles, motorbikes, electronics, petro-chemistry, and iron and steel.
FDI outflow remains modest at best
By mid-2006, Viet Nam had launched 166 projects worth nearly US$650 million, in 33 countries and territories around the world, according to the Vietnamese Ministry of Planning and Investment.
However, the World Investment Report 2006 pointed out that current outflows of FDI from emerging economies are powerfully increasing. As a result, Viet Nam has fallen from 109th in 1990 to 137th in 2005 for FDI disbursment ranking, even though the country's index of direct investment outflow to foreign countries has increased remarkably over the past six years.