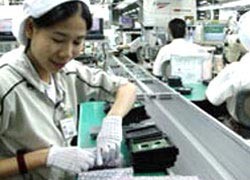 A forein-owned factory in Viet Nam. It is anticipated that dozens of foreign investors will soon come to Viet Nam.
Viet Nam is poised to host a new wave of foreign investment as conditions continue to stabilize and prove more favorable to businesses while foreign companies queue up for licenses.
There are 3 foreign investment projects with the capital of about US$4 billion assesed and submitted for the Prime Minister's approval.
The Tycoons Worldwide Group has applied for the license to build a steelworks with a 5-million-ton yearly capacity in the Dung Quat Economic Zone. As well, Korean Posco Group has presented a proposal to invest US$1 billion in a steel rolling factory in Ba Ria – Vung Tau Province.
In addition, three Australian – Taiwan joint-venture companies have sought permission for the development of a US$1.9 billion steel complex in Ha Tinh Province.
Intel has also been licensed to invest US$650 million in Sai Gon Hi-Tech Park.
All signs point to a new wave of foreign investment on its way to flood Viet Nam. The first wave began when Viet Nam implemented reforms in 1986 but the Asian financial crisis of 1997 drove dozens of foreign investors to leave the region.        
But Viet Nam's recent multi-faceted conditions are proving favorable for a second wave of foreign investment.  Viet Nam is on its way to the World Trade Organization (WTO) and rising costs in China and India are causing foreign investors to favor Viet Nam.
A foreign investor involved in both Chinese and Indian factories said that he has to pay US$125 per month for a laborer in China and US$750 per month for a software engineer in India, while the monthly salary of a laborer in Ho Chi Minh City is US$65 and US$350 for a software engineer. These levels were regulated by the Government in Feb, 2006.
The Economist Intelligence Unit (EIU) of the U.K.'s The Economist magazine has recently released a report ranking Vietnam at a 'medium' level in terms of business risk. EIU streamed business risk into 5 levels: A, B, C, D and E by which E is the highest level of risk. Viet Nam is ranked at C level, the same as Thailand, China and India.
According to the surveys on 10 aspects of foreign businesses in Vietnam, EIU rated security risk the lowest at 18/100 points, an "A" level. Viet Nam's macroscopic management risk is at low thanks to amended laws on business. However, the infrastructure, finance, labor market and government management in business sector are ranked at low level, D.