The United States Department of Commerce has released a document concerning the removal of an anti-dumping tariff applied against three Vietnamese tra fish exporters after they admitted to a mistake in calculating the tariff rates.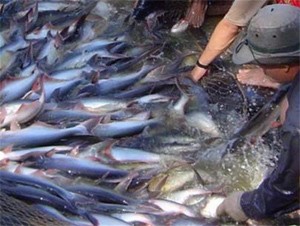 Catfish bred in the Mekong Delta
The exporters are East Sea Seafoods Joint Venture Co. Ltd, QVD Food Co. and Anvisfish Co. Ltd., according to the Viet Nam Association of Seafood Exporters and Producers.
 
Previously, the U.S applied an import tax rate of 31.68 percent to Anvifish Co. Ltd. However, the Anvifish quickly submitted documents to prove that U.S. made a mistake in calculating the tariff. Therefore, the U.S. decided to offer Anvifish anti-dumping tax redemption.
 
The Department of Commerce admitted its mistake in the latest Federal Register Notice.
 
The situation of QVD Food Co. is different. The initial tariff was 14.59 percent. However, since the DoC could not present any proof of dumping by QVD, it later announced that they would cut the anti-dumping tax for this company.