Over 200 companies from 14 countries and territories will participate in the 16th Viet Nam International Trade Fair from April 5-9, commonly known as Viet Nam Expo 2006, announced recently the Vietnamese Ministry of Trade.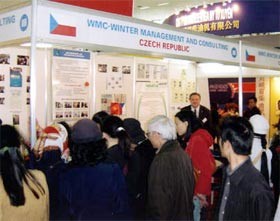 More visitors eyed Viet Nam Expo 2005. (Photo:T.K)
These countries and territories include Viet Nam's current big trade partners such as Germany, the Republic of Korea, China and Japan as well as potential markets of Saudi Arabia and Pakistan.
The expo will gather companies working in food and drink processing, chemicals and fertilizer, industrial machinery, medical equipment, pharmaceutical and cosmetics, electrical, electronic and IT (information technology) products.
There will also be a display of means of transportation, textiles and garments, interior furniture, paper and stationary, glass and plastics.
Currently, Vietnamese enterprises have booked 450 booths, raising the total estimated booths to 700 in the entire Giang Vo Exhibition Centre in Ha Noi.
Besides introducing their products and seeking business opportunities, the companies will participate in a workshop on the economy and trade between Vietnamese and foreign enterprises.