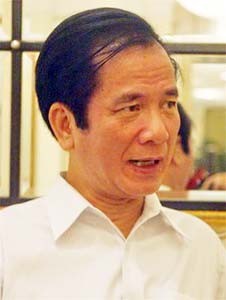 Minister of Planning and Investment Vo Hung Phuc
Viet Nam and Japan are striving for an agreement on investment liberalization and protection in a bid to create an open environment for investment," Minister of Planning and Investment Vo Hong Phuc told Sai Gon Giai Phong newspaper after his visit to Japan.
A large number of 400 Japanese entrepreneurs attended two investment seminars held in Japan by the Vietnamese Ministry of Planning and Investment and the Japan External Trade Organization. So far, nearly 20 big groups in Japan have confirmed their long-term investment strategies in Viet Nam and this proved that Japanese business community considers Viet Nam a very attractive destination.
What are the reasons that have made Japan commit to raise ODA for Viet Nam in the years to come?
Results in economic development of Viet Nam thanks to ODA in recent years may be one of the reasons that make Japan consider increasing ODA for Viet Nam.
In addition, it is Viet Nam's straightforward and determined attitude in combating misconduct in ODA use and the quality of works built with Japan's ODA Prime Minister Nguyen Tan Dung mentioned in his speech at the Japanese Congress that has made Japan be convinced.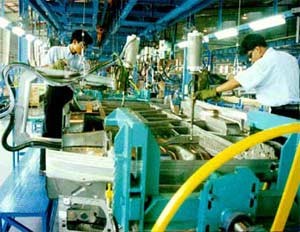 Automobile assembling industry is one of the Japanese business community's focuses when investing in Viet Nam. (Photo:TK)
The two sides have clearly defined the orientation for the use of ODA in the future: building strategic works in Viet Nam such as the north-south highway and railway and the infrastructure for the Hoa Lac hi-tech part in Ha Noi's outskirts.
A very important content of the joint statement between Viet Nam and Japan is the two sides will discuss and sign an economic partnership agreement. Could you talk more about this?
Viet Nam and Japan have already had an agreement on investment liberalization and protection which works as the foundation for attracting and creating open environment for investment. Therefore, the economic partnership agreement will further focus on trade: commodity trade, service trade and intellectual property protection. However, if investors have other proposals to make, we might consider and add them to the agreement.
When the agreement is signed, it will create a favorable environment for Vietnamese and Japanese businesses to strongly promote bilateral trade?
The two sides are striving for starting negotiations on this agreement in January 2007. Such agreements need around one to 1.5 years for negotiations so I hope by 2009 Viet Nam and Japan can sign this agreement.