Viet Nam is likely to achieve a new record in attracting foreign direct investment (FDI) in 2007, said representatives from several major international financial groups at the second Viet Nam Investment Forum, which ended in Ha Noi yesterday.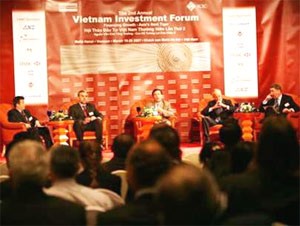 Foreign investors talk at the second Viet Nam Investment Forum
"Viet Nam's propitious investment environment together with its membership in the World Trade Organization (WTO) is making Viet Nam an appealing destination for foreign investors. Attracting between US$15-17 billion in FDI this year is within the country's reach," said General Director of the Hong Kong and Shanghai Banking Corporation (HSBC), Michael Geoghegan.
 
He pointed out that Viet Nam's young population coupled with an increasingly skilled labor force will facilitate the country's economic development, especially with respect to the volume of FDI.
 
Participants at the forum agreed that in order to stabilize foreign capital sources, Viet Nam has to increase its capital management capacity, reform investment licensing processes, create a more open and transparent investment and business environment, and coordinate the efforts of different agencies within the legal system to enforce laws more consistently.
 
Dragon Capital's chief Scriven also agreed that the flow of direct or indirect foreign investment depends on domestic factors and the way it treats customers and partners determines to a large extent whether or not a country can maintain its flow of investment capital.
 
However, he said he is optimistic that the capital pouring into Viet Nam will continue to increase in the forthcoming.