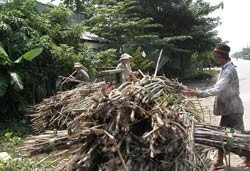 Farmers are loading sugarcane to sugar refinery.
Viet Nam's sugarcane yield and output has decreased this year but the country has plans to increase its sugarcane growing area in 2007 to meet domestic demand.
During 2005-06, Viet Nam's 265,000 ha of sugarcane yielded only 13.5 million tons due to drought--15,000 hectares less and 1 million tons less than in 2004-05.
Revamped 2006-07 sugarcane production is expected to begin this October first in Mekong Delta provinces and then later nationwide, said Ministry of Agriculture and Rural Development at a Ho Chi Minh City conference Friday, reviewing 2005-06 sugarcane production and mapping-out plans for the next year.
The agricultural ministry is planning to produce around 1.25 million tons of sugar, including 332,000 tons of refined sugar to meet domestic demand in 2007.
Under the plans, sugarcane acreage will be increased to 303,000 ha nationwide and sugarcane output to 15.5 million tons.
In 2005-06, thirty-two of 37 sugar plants in Viet Nam are reported profitable and 27 plants have been privatized this year, said Deputy Minister of Agriculture and Rural Development Diep Kinh Tan at the conference.