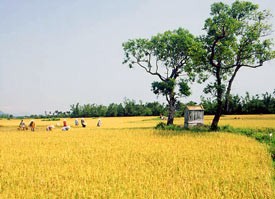 The Ministry of Trade forecasts that Viet Nam will export 5 million tons of rice in 2007. (Photo:TC)
Viet Nam will harvest 37 million tons of rice in 2007. Of this figure, 27.6 million tons is consumed locally and 9.3 million tons, which is equivalent to 5 million tons of processed rice, will be exported, the Ministry of Trade forecasts.
Besides, the ministry also predicts that Viet Nam will have many favorable conditions in rice exporting in 2007 and the next years.

Although the temporary order halting rice export issued by the government is still in effect, Viet Nam has much advantage of rice exporting. Viet Nam won the bid to supply 5,000 tons of rice to Japan and the Philippines plans to import 500,000 tons of 25% broken rice from Viet Nam, Thailand and China in 2007.