Most participants at an August 15 seminar for Vietnamese farmers about WTO have pointed out current disadvantages and shortcomings of the country's agriculture sector before integrating into the global economy.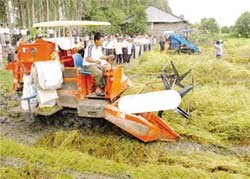 A farmer in the Mekong Delta is using modern combine harvester in farming production.
The seminar, under the theme "What a farmer should do for WTO integration?" was organized in the Mekong Delta city of Can Tho by the Vietnam Farmers' Association.
According to most attendees, Vietnamese farmers, along with opportunities they get when Viet Nam becomes a WTO member, will also have to cope with great challenges as Viet Nam's household agricultural production has many disadvantages and shortcomings.
Great challenges
Speaking at the seminar, Professor Dao Cong Tien, former Rector of the Ho Chi Minh City University of Economy, said there is currently an unbalance between the local farmers' contribution and their benefits.
According to him, although the Mekong Delta's agriculture production made up 17% of the GDP and 92% of the nation's food output, the average monthly income of a farmer family member is about VND175,000 (US$11), far lower than current standard, Mr. Tien calculated.
Former Chairman of the An Giang People's Committee Nguyen Minh Nhi quoted an example that the current rice price stands still at VND2,400 per kilo while the prices of fertilizers and oil, which are major materials for farming production, have successively sky-rocketed during these days, causing a lot of difficulties to the local farmers.
Despites Vietnamese farmers have fulfilled their tasks for the nation's 20 years of renewal, Mr. Nhi said, there still remains two questions that whether the standard model of the industrialization and modernization process in the Mekong Delta's agricultural development has been formed and how the region integrate into the global economy in such a poor condition.
Local farmers' concerns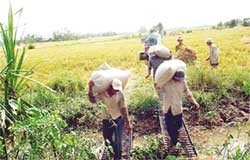 Farmers in the Mekong Delta still live under the poverty line although the region's rice is exported.
At some meetings with local enterprises before the seminar, many farmers in the Mekong Delta region have expressed their worries.
For instance, farmer Do Quy Hao from Kien Giang Province said his major concern now is how to actively sell his products to whole-sale buyers.
He said, "I can supply a large quantity of quality sweet potato, roughly ten tons a day, however, my products must go through middlemen to whole-sale buyers."
Mr. Hao said although he successfully contacted some partners in Japan, they all refused to sign contracts. One of the reasons for the few direct transactions between farmers and whole-sale buyers is that prices offered by the middlemen are often lower than those of the farmers.
Recently, a local cooperative in Ho Chi Minh City, Saigon Co-op, decided to buy in his sweet potatoes to supply the domestic demand, said Mr. Hao, however, only few tons of potato a day were purchased by the biggest local supermarket chain.
Besides lacking of a close cooperation between farmers and buyers, the domestic farming sector also witnessed a deficiency of sufficient information, market prices forecast, measures to assist farmers selling their products and application of scientific and technological advances in production.
Mr. Le Thanh Be, Head of Tan My Hung Cooperative in the Mekong Delta province of An Giang, said it is a must for local enterprises to associate, study the market demand and find out probable distribution channels, instead of just calling upon the local farmers to join in cooperatives but then asking them to process other enterprises' products.