Official development assistance (ODA) provided by multilateral agencies and other countries to Vietnam is not likely to shrink next year because of the global recession, the Ministry of Planning and Investment has said.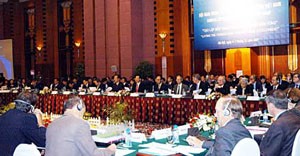 The annual consultative group meeting for Vietnam will be held on December 4.
Its remark came before the annual consultative group meeting for Vietnam to be held tomorrow.
The World Bank's acting country director Martin Rama said the bank expects to lend the country US$1 billion.
It has also agreed to provide $1.5 billion over three years from the International Bank for Reconstruction and Development, he said.
The Asian Development Bank (ADB) too does not foresee much change in its policies towards Vietnam.
The ministry said Vietnam would continue to sign many large ODA agreements with the ADB next year for projects like the $400 million Ca Mau power plant and the $300 million Ring Road 2 in HCMC.
The acting head of the UK's Department for International Development (DFID), Fiona Lappin, said yesterday her agency has signed a 10-year agreement with Vietnam to provide aid worth 50 million pounds ($75 million) every year.
The first tranche next year will be for promoting global trade and mitigating the effects of climate change and HIV/AIDS.
Appreciating its tight monetary policy and expenditure cut, Ms Lappin asked Vietnam to invest in well-monitored infrastructure projects.
But many officials said it is difficult to forecast aid levels from Japan – traditionally the largest donor -- because of the fallout of the Pacific Consultant International bribery scandal.
PCI officials recently told a Japanese court that they had to bribe Huynh Ngoc Sy, then deputy director of the HCMC Department of Transport, to get the West – East highway project.
The Vietnamese and Japanese governments have established a committee to prevent corruption related to ODA use.
International donors restarted the ODA program for Vietnam in 1993 and have provided $22 billion out of a total pledged amount of $42.5 billion.