The national flag carrier Vietnam Airlines has announced an increase of 195 flights on eight domestic routes from April 27 to May 2, to meet travel demand during the Reunification Day and May Day holidays.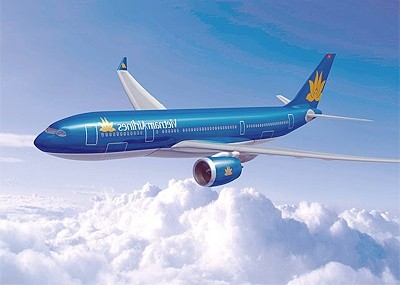 Vietnam Airlines will increase 195 flights on domestic routes for coming holidays
The most number of flights will increase to and from Da Nang City, which is preparing to host the Da Nang International Fireworks Competition 2012 at month's end.
Hanoi–Da Nang route will see an increase of 77 flights; HCMC-Da Nang will increase of 56 flights and Da Nang-Hai Phong an increase of four flights.
Hanoi-Nha Trang route will see extra 16 flights, HCMC-Nha Trang 15 flights, HCMC-Phu Quoc 21 flights, Hanoi-Quang Binh four and Hanoi-Hue two flights.
Domestic travel is expected to increase by 16 per cent from other normal days, during these month-end holidays.
During this holiday break, Vietnam Airlines will also increase flights on some international routes such as HCMC-Bangkok with four flights, HCMC-Hong Kong with four and Hanoi-Siem Reap with six flights.