NurnbergMesse Group in cooperation with German Industry and Commerce in Vietnam (GIC) and the Vietnam Trade Promotion Agency (VTP) organized a press conference on November 20, aiming to announce the sign agreement between NurnbergMesse and GIC and boost international share at trade fairs.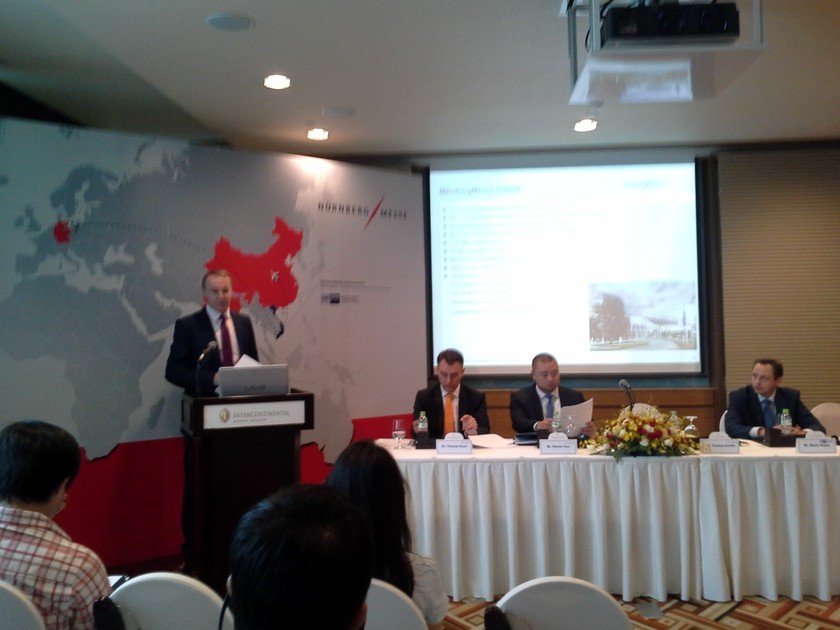 At press conference (Photo G.L)
At the conference, Mr Thomas Schlitt, Director International Sales and Business Development said, founded in 1974, NurnbergMesse is one of the fastest growing trade fair companies in Germany. It has organized more than 120 exhibitions and conferences and attracted over 30,000 exhibitors and one million visitors per year.
The company's subsidiaries cover the world's major trade fair markets such as China, North America, Brazil, India and Italy. We provide our customer in the respective countries with information and support them in all kinds of question, from the conceptual direction of their trade fair appearance to logistic aspects, he added.
"We are very happy to add GIC in Vietnam to this network of global representatives and sure that this will further strengthen our position in Vietnam and the region", expressing hope that more and more Vietnamese businesses will take advantage of this chance.
As manager international sales & business development in ASEAN, Mr Darren Guo said, we now have more than 1,000 visitors from ASEAN and it is expected to increase over 1,800 visitors in even years.
Mr Marko Walde, Chief representative, German Industry and Commerce in Vietnam (GIC) said business opportunities for Germany and Vietnam with trade and economic exchange 2013 reached US$ 7.7billion, up 18 percent compared to last year; while German FDI to Vietnam gained US$ 1billion and more than 300 Germany companies has invested in Vietnam.
Vietnam Trade Promotion Agency under Ministry of Industry and Trade, Ms Thanh An –deputy chief of department said Vietnam export to Germany touched US$ 4.7billion in 2013 and 3.3 billion in the first 8 months of this year. Main items which exported include garment textile, shoes, coffee and seafood while Germany export to Vietnam expected to reach US$ 2.9billion in 2014 and for the first 8 months of this year, it reached US 1.6billion with main items such as machinery, medical, automobile. Trade volume between Germany and Vietnam contributes 19 percent in total. She affirmed that this is good chance to Vietnamese businesses because through NurnbergMesse, Small and Medium Sized Companies can seek for potential partners throughout the world.
In 2012, NurnbergMesse was ranked among the top fifteen exhibition companies worldwide with revenue of over 200m EURO, the highest revenue in its history so far.