Italy's financial news website Firstonline recently posted a story by analyst Ciro Caliandro giving his valuations on Vietnam's economy as well as opportunities that Italian businesses can gain from their investments in the country.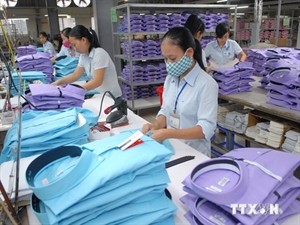 Illustrative image (Source: VNA)
Ciro Caliandro wrote Vietnam has established itself as one of the most dynamic Asian economy with gross domestic product growth rate at 5.4 percent in 2013.
He said the country is a leading player in regional integration in Asia-Pacific since it is now a member of the Association of Southeast Asian Nations (ASEAN), the ASEAN Free Trade Area (AFTA), and the Asia-Pacific Economic Cooperation (APEC) forum.
Vietnam, deemed as a competitive country in Asia, received about 230 billion USD in foreign direct investment between 2000 and 2013, the story said, highlighting such advantages as good basic education, young workforce, low costs, and well-managed industrial parks.
Ciro Caliandro said most of Italian businesses have so far invested in Vietnam's energy (oil and gas), infrastructure building, machinery, and fashion industries. However, they could benefit from more incentives when pouring money into construction and housing sectors as the urbanization process in the country is happening fast.
Italy currently ranks tenth among countries and territories exporting goods to Vietnam. In 2013, it shipped EUR 674 million (US$ 840.6 million) worth of commodities to Vietnam, and the figure is expected to reach EUR 1.4 billion in 2018.
However, the European country is only the 20th largest importer of Vietnamese goods and services. The Southeast Asian country's export revenue to Italy is forecast to grow at an average pace of 16 percent from 2014 to 2018, the analyst said.
The story was posted on the occasion of a visit from November 23-26 by Italian Deputy Foreign Minister Benedetto della Vedova and 200 entrepreneurs to seek investment opportunities in Vietnam.