Prime Minister Nguyen Tan Dung has approved a development strategy for the auto industry by 2025 and with a vision to 2035, which targets 90,000 automobile exports in the next two decades.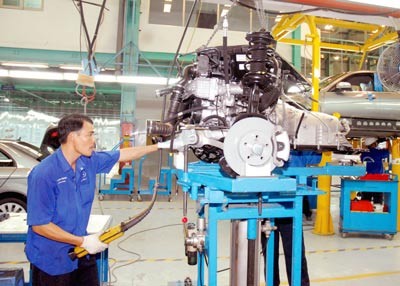 Car manufacturing in HCMC (Photo: SGGP)
By 2035, total automobile output will reach 1,531,400 ones. Local assembly will meet 78 percent of domestic demand.
The strategy specifies that Vietnam's auto industry directs towards automobile lines suiting domestic traffic infrastructure.
It gives priority to development of trucks, passenger buses, cars, specialized vehicles and support industry. Minivans will be developed to serve agricultural and rural development.
Manufacturing of energy-efficient and small individual cars will be focused on to accord with traffic infrastructures and residents' income.
Support industry aims to apply advanced technologies to manufacture major components like transmission, gearbox, engines, body shells and some types of automobiles.